Barriers to Economic Mobility Are Compounded at the Intersections of Disability, Race, and Poverty
Often a person's or community's challenge combines with other challenges, such as those tied to race, poverty, and more. The result is a collection of complications that seem even more overwhelming to address. One Pittsburgh coalition focuses on a holistic approach for improving economic outcomes for those with intersecting identities.
As a regional outreach manager for the Cleveland Fed, my work allows me and the Community Development Department to better understand the region's local economy and the barriers for lower-income individuals and communities. Economic and financial inclusion are critical to the department's—and the Bank's—work.
In the Pittsburgh region, community partners have been very focused on the economic mobility challenges for lower-income residents. Although some research such as this report by Raj Chetty and coauthors suggest that Pittsburgh as a whole has a higher-than-average rate of economic mobility for its citizens, a closer look reveals that various populations are still struggling, and economic mobility is out of reach. Often, the accolades the area has garnered do not align with what community developers are seeing and hearing from the underserved populations they work with. One such discrepancy is Pittsburgh's ranking as one of the most livable cities: it is also ranked as one of the worst cities for Black residents. In 2020, this particular contradiction was featured on W. Kamau Bell's CNN series "United Shades of America."
Many Pittsburgh organizations do not shy away from recognizing these existing inequities and are working toward more inclusive economic growth models. One coalition that brings together many of these partners is the National Disability Institute (NDI)—the first national nonprofit committed exclusively to financial education and empowerment for people with disabilities.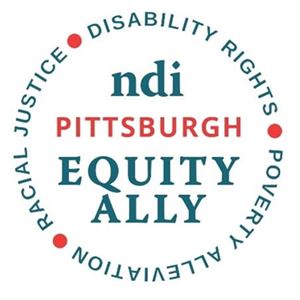 Creating a Coalition
Much of the momentum to better address disability issues and develop ways to improve financial opportunities for people with disabilities in Pittsburgh began in 2019. During that year, organizations working as disability service providers connected with organizations working on financial inclusion in Pittsburgh. From these partnerships sprang a network of stakeholders, additional research, and a summit. The two-day summit led to shared resources and new collaborations. It also uncovered one very important point: Better serving Pittsburgh's disability community would require a holistic approach because many of the community's biggest challenges intersected with the challenges tied to race and poverty in many underserved areas of Pittsburgh.
So, the group of organizations got to work on providing solutions for these complex issues. Then, everything changed as COVID-19 took hold in March 2020. The pandemic could have stopped the development of this group. But as the pandemic wore on, and policies and programs (such as eviction moratoriums and stimulus funds) were put in place, the organizations realized that a healthcare crisis would likely have an even more significant impact on those with disabilities. The organizations quickly realized that they needed to create a coalition to help address the challenges of people whose disabilities were further compounded by issues associated with race and poverty. Thus the Pittsburgh Coalition on the Intersection of Disability, Race, Ethnicity, and Poverty was created.
Holding a Regional Roundtable
In February 2022, the Coalition held a roundtable to accomplish two goals:
Bring together organizations that focus on economic equity, racial equity, and the disability community.
Work together on action plans to address barriers to economic mobility that people of color with disability face.
The Coalition's hope was to collapse the silos that organizations often work in and increase collaboration…and solutions.
For context, attendees referenced the NDI's Financial Inequality: Disability, Race and Poverty in America, which made clear the disparities in income for people of color with a disability. Nationally, members of this population are likely to have annual incomes of less than $15,000, insufficient savings, and much lower net worth.
Regionally, there are similar disparities. The following maps, shared during the roundtable, show that Pittsburgh's population of low-income people with disabilities significantly overlaps with the population of Black people with disabilities. Organizations working with these populations during COVID-19 were well aware of these disparities and feared the inequities would only grow as the pandemic continued.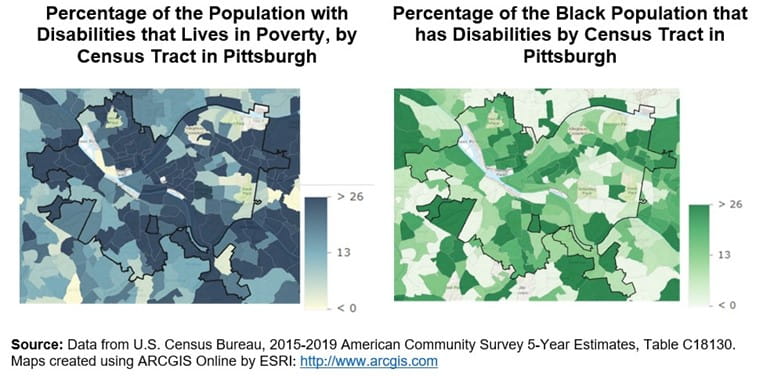 Working Now and into the Future
To better understand the additional challenges that COVID-19 brought—and to try to get ahead of challenges to come—the Coalition convened focus groups of people with disabilities and disability service providers in March 2023. Hearing directly from service providers and those they serve was an important component for informing the Coalition's future work and direction.
Participants weighed in on questions that included the following:
What does financial health and wellness mean to individuals with disabilities?
What systemic injustices lead to economic inequality, and how do they impact the lives of people with disabilities?
What barriers are worsened by the intersection of race, poverty, and disability?
Most often noted were barriers related to social justice; access to financial services, transportation, and employment opportunities; navigating a complex system of benefits and support services; and stigmas associated with disability. When combined with race and poverty, such barriers are an additional layer of challenges for the disability community.
To maximize the impact of service organizations, it is important to view, and then address, intersecting issues together. Says Katie Metz, director of the Financial Resilience Center at the NDI, "Economic empowerment and disability services are most effective when all aspects of the individual are considered. Community service organizations tend to focus on serving one aspect of an individual, such as addressing their disability needs or their financial counseling needs. However, just as an individual's lived experience is greater than the sum of their identities, the effectiveness of the services offered can be greater when informed by the overlapping challenges individuals face at the intersection of race, ethnicity, poverty, and disability."
The Coalition on the Intersection of Disability, Race, Ethnicity, and Poverty will continue working to reduce the compounded barriers that people of color with disabilities face because of their intersecting identities. The Cleveland Fed's Community Development Department appreciates the Coalition's work to put disability in the spotlight alongside race and poverty and will continue to follow actions being taken as a result the focus groups.
The views expressed in this report are those of the author(s) and are not necessarily those of the Federal Reserve Bank of Cleveland or the Board of Governors of the Federal Reserve System.