Community Issues and Insights
Community Issues Survey
Twice a year, the
Community Development Department
at the Cleveland Fed administers the Community Issues Survey to more than 600 organizations across our region who have direct knowledge of issues impacting low- and moderate-income (LMI) people and communities. Respondents are asked about jobs, housing, financial well-being, access to credit, and other issues that have a significant impact on the welfare of the communities they serve. The spring survey includes questions to help us understand current trends; the fall survey's questions help us monitor the changes in these trends.
Findings from the survey are shared two ways: through an annual Community Issues and Insights report and through our biannual update of the LMI Economic Condition Indices. These indices allow us to track trends in certain aspects of the economy over time.
Low and Moderate Income (LMI) Indices
These indices reflect changes in economic conditions in low- and moderate-income communities. In the indices referenced here, each response to a survey question is categorized as "increased," "decreased," or "no change."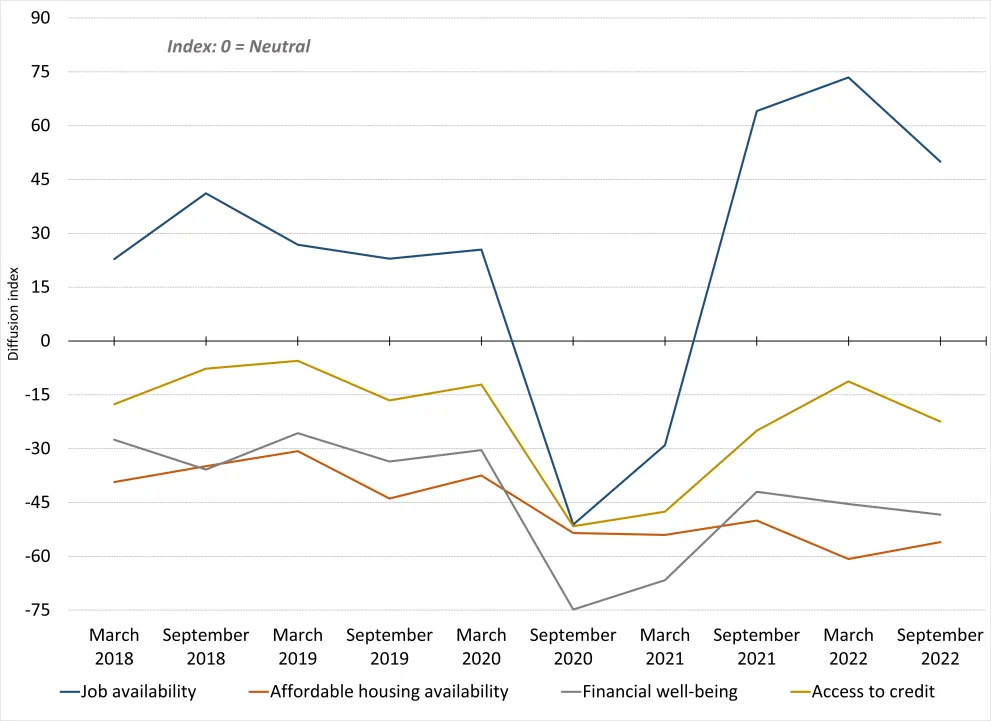 In the September 2022 survey, respondents indicated a modest deterioration in the financial well-being of low- and moderate-income households compared to March 2022. Roughly one third of respondents said inflation contributed to the decline in financial well-being, with one respondent stating that higher prices "caused families to make different decisions regarding expenses, food and travel in particular." Housing contacts cited rising rents, limited supply, and increased demand as contributing factors to the decrease in affordable housing. Job availability remained elevated: Even though a slightly higher share of survey respondents indicated a decline, the index remains well above prepandemic levels.
Does your organization work directly with low- and moderate-income people? Would you like to receive the report or participate in the survey?