Update on fed funds rates based on 7 simple monetary policy rules: Cleveland Fed
Looking at the federal funds rates coming from seven simple monetary policy rules and three economic forecasts — based on data and forecasts available as of March 22, 2019 — Federal Reserve Bank of Cleveland researchers find that the median federal funds rate across the policy rules and forecasts rises from 2.41 percent in 2019:Q1 to 3.05 percent in 2021:Q1.
"Compared with the forecasts available in late November, the current projections generally call for a lower path for inflation and a higher path for the unemployment rate," says Edward Knotek, a senior vice president and economist at the Cleveland Fed. "As a result, the median federal funds rate path across these simple policy rules and forecasts has moved down. The median funds rate now rises to 2.95 percent by the end of 2019, 41 basis points lower than its value last quarter."
Simple monetary policy rules provide a relationship between a central bank's policy rate and a relatively small number of indicators of inflation and real economic activity. Monetary policymakers often use simple policy rules, like the Taylor rule, as an input into their decision-making. However, there are many different simple rules, and there is no agreement on a single "best" rule. The chart below highlights differences among the latest funds rates coming from the simple policy rules and forecasts examined by Cleveland Fed researchers.
The Cleveland Fed's webpage, Simple Monetary Policy Rules, presents detailed results from the researchers' analysis and a spreadsheet so users can customize their own simple monetary policy rule and forecast. The results are updated quarterly, and users can receive e-mail notifications when the updates are posted.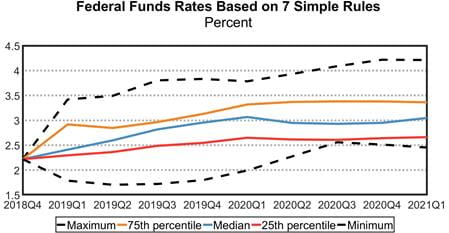 ---
In case you missed them, check out these recent Economic Commentaries from the Cleveland Fed:
What Is Behind the Persistence of the Racial Wealth Gap?
Do Longer Expansions Lead to More Severe Recessions?
Asset Commonality in US Banks and Financial Stability
Federal Reserve Bank of Cleveland
The Federal Reserve Bank of Cleveland is one of 12 regional Reserve Banks that along with the Board of Governors in Washington DC comprise the Federal Reserve System. Part of the US central bank, the Cleveland Fed participates in the formulation of our nation's monetary policy, supervises banking organizations, provides payment and other services to financial institutions and to the US Treasury, and performs many activities that support Federal Reserve operations System-wide. In addition, the Bank supports the well-being of communities across the Fourth Federal Reserve District through a wide array of research, outreach, and educational activities.
The Cleveland Fed, with branches in Cincinnati and Pittsburgh, serves an area that comprises Ohio, western Pennsylvania, eastern Kentucky, and the northern panhandle of West Virginia.
Media contact
Doug Campbell, doug.campbell@clev.frb.org, 513.455.4479