The Provost Scholars Program at Case Western Reserve University
A conversation with Professor Faye Gary
The Provost Scholars mentoring program at Case Western Reserve University (CWRU) aims to nurture robust and enduring relationships between CWRU faculty and staff and students in the East Cleveland City Schools. I spoke with the program's director, Professor Faye Gary, to learn what she sees as the necessary components for a program like this to succeed.
The Provost Scholars program begins by making space to develop trust. Students need to know that they can count on the people they're opening up to. For that reason, the program emphasizes the need for mentors to be willing to commit to their mentees for the long run and to be open to learning about and responding to the challenges that students growing up as racial minorities in impoverished neighborhoods face.
The program also insists on consistency and standards of behavior for mentors, mentees, and everyone else involved in the program. Professor Gary says that students need to know that mentors will show up every week and address whatever comes up and that they're cared about—no strings attached.
In the course of developing long-lasting bonds with their mentors, students learn how to access and use the human and institutional resources offered by CWRU, develop self-confidence, and come to understand the possibilities of a bold new world, guided by a person who cares for them. "They become empowered and the sense of helplessness—hopelessness—wanes," says Professor Gary. This empowerment is foundational for labor market success, which should lead to a more dynamic labor force and grow the economy's productive potential, increasing what economists would call maximum employment.
The following conversation has been edited and condensed. Listen to an extended version of this conversation.

Social networks as a missing resource
Dionissi Aliprantis
I'm curious if you could speak about some of the success stories with the Provost Scholars. How have kids done in terms of their education and in terms of their later labor market outcomes? In what ways do you think that this program is able to open doors for students that might otherwise not have been open?
Faye Gary
Well, I would start with one of the things that is missing in under-resourced communities, which is networks to important people and important organizations, meaning having relationships with people who can make a difference, or who can provide the advantage, if you will. So, once our children get into the program, they have a network that they never even knew existed. They learn, through their mentors, that they can go to this dean, that program, they can go to the admissions office. They can go to the Think Box. They can have a conversation with the career center. They learn about a variety of resources that exist at Case and on many other college campuses, and they have access to human and material resources, human resources, because their mentor can say, "well, I'll call Bob, or I'll call John. And we'll make an appointment. I'll take you to see John and he can tell you about the Holo Lens." That's what happens.
That's so powerful for these children. So they become empowered and the sense of helplessness— hopelessness—wanes, and their dreams get "fertilized," if you will. And then they can make plans for themselves because they know that they have a safety net, they can call a mentor. For example, they could tell Ms. Kate that they need some help with biochemistry or whatever. And we try and provide that. That doesn't happen in their neighborhoods; they don't have anybody in their neighborhood to tutor them in biochemistry—let's just be honest about it. And there's nobody in their church who can help them. But there's somebody here who can. And so that's, I would say, networking. And to say that "what I have, I will also share with you." And that, again, is the advantage that comes with sharing resources and opportunities that they would not otherwise have.
The Provost Scholars fosters mentoring relationships
Dionissi Aliprantis
I'm curious to hear about your work with the Provost Scholars. Could you describe to me a little bit about the principles behind the Provost Scholars? What are the principles behind what you're looking for in the mentors? How do you foster those relationships? And what is it that you're looking to do?
Faye Gary
Well, the program has two basic umbrellas—and that is academic excellence and social emotional learning. And just about everything we do falls under one or both of them. There's a lot of overlap, but those are the two pillars of our program. So, everything we do, we ought to be able to link it to one or both of these.
And the mentors are excellent in whatever they do. Most of them are professors at the university. They're excellent in their fields—in music and dance and biology and biochemistry and medicine, et cetera, et cetera. So we want the children to see others who have excelled. And we want them to develop a relationship with other people who have excelled and who have done well.
And that relationship gets developed over a period of time. It gets developed through the mentoring. They could go to their mentors' offices. They go to the student center, where they talk in general about things. They go to a basketball game together with special permission. They go play catch football together. They go to a lecture with their mentor. They go to a lecture that their mentor is giving. They go to the offices. They meet their deans, et cetera, et cetera. So you expose them to a bold new world with a person who cares for them.
Faye Gary
We do social emotional learning in many different ways. One of basic ways is we do have a code of ethics that everybody has to follow, including me, Ms. Kate, Dr. Thompson, the provost—everybody. Everybody. These are the rules of the game because we love and respect everybody. This is how we act. This is how we behave at all times. Okay? Everybody knows that—including the parents and teachers.
Dionissi Aliprantis
Standards of behavior.
Faye Gary
Standards of behavior. And we have the same standards for everyone. We discuss it with the parents. The teachers have it. The mentors have it. The tutors have it, et cetera, et cetera. Now we don't usually have to pull a hard one [and be super strict]. When we have to, we do, but seldom do we have to do that. But the trick is to be consistent. And we try to have our guidelines, to the extent that we can, consistent with the schools' guidelines. Now there's a difference because we have only 30 something children. We can reinforce them quicker than the schools can. We can be more resolute about it than the schools can.
It is a slam dunk when students know their mentors care about them
Faye Gary
And we have mentors who've worked with their students for four and five years. Dr. Thompson, for an example, her mentee right now is our student assistant. She's been working with Dr. Thompson since she was in eighth grade. And she's a junior at Case Western Reserve University. And my mentee, who's now at Ohio State in graduate school, and another mentee is getting ready to go to law school…on and on and on and on.
So they learn that the mysticism about skin color is removed and they see a human being. And they see a human being who cares for them. They see a human being who shows up every Tuesday and addresses whatever the agenda is that Ms. Kate tells us we have to do and where we can go and what time we have to be back. They go to the museum together. They go to the library. They work on essays. They go to the Think Box. But it's the relationship with no strings attached.
"I'm here because I care about you," we make it very clear that nobody gets paid anything. The mentors are volunteers. And these children remain with their mentors and their mentors with their children years later.
Dionissi Aliprantis
I do want to react a little bit to what you're saying based on some of my own work with kids. And that's that I feel like communicating to kids that you care about them is a superpower.
Faye Gary
It is.
Dionissi Aliprantis
And then once kids know that, once kids know that you really care about them, I feel like the sky is the limit.
Faye Gary
Absolutely.
Dionissi Aliprantis
And so I'm curious—could you talk about some of the success stories that you all have had? And maybe, how do we think about this superpower? How do you generalize it, or how do you harness it? How do you leverage it? Obviously, there are people doing it every single day—there're parents, there're teachers, there're family members, friends. How do you think about whether it's a program or a school or, in your case, the Provost Scholars, how do you operationalize this, and how do you try to foster those kinds of interactions?
Faye Gary
Well, I think that's a very interesting question and it is an essential one. I think you have to have people who care and people have to understand the struggles or something about the nature of the children that they're working with. I'm a psychiatric nurse; if I'm working with a depressed person, I need to know something about depression.
Dionissi Aliprantis
And what do you tell mentors along these lines? Because I think, again, going back to my own experience, working with somewhat similar programs, the thing that we would always tell people is, "just be yourself and be genuine." And I feel like that goodwill and that caring for people will get you far. And that's the path forward.
Faye Gary
And people know if you care for them, especially. I must make a confession, which is that Black people know how to sight phonies in a minute. That's a skill that we've had to learn to survive. So I've told you a big secret now, but we know that. And we talk among ourselves to get it validated. What do you think? And once it gets validated—that's it, kind of thing.
Dionissi Aliprantis
You're going to come to some meetings with me then, please? Are you going to come help me out?
Faye Gary
But I mean, that's one of the things you have to do to survive. You have to figure out who you can trust. Who's on your side, who's not. And so, that happens very, very, very early. But that being said, I think consistency is very important. And with our mentors now, we do all of the things that other folks do. We have a mentor's manual, and we give mentors an overview about the struggles of the children. They are volunteers. We get people who gravitate toward our program because they have some propensity for wanting to help. What we say is that all you need is a little bit of empathy, and we could help you with the logistics. I say to them, "Just come. If you care enough to do enough, Ms. Kate can give you the manual. Ms. Kate can teach you about the logistics when you show up. But when you come, bring your true self." And then we have programs to help the mentors. And in the past, we've shared our experiences. So we've become a collective body with the mission of helping the children, and they enjoy sharing their experiences. So we have this collective union, if you will, among the mentors, through sharing and through, let's say, consensual validation about what we are doing that's helpful and about the program. And that's been very reaffirming for the mentors and also for Ms. Kate and Dr. Thompson and me and the provost. It works. We have mentors who've been with us since 2013.
And there's no doubt that they care. And we learn different ways and means of working with the students. And we believe that one size does not fit all. And so we do it on an individual basis, and we try to match the mentee with the mentor using some common attributes or characteristics, hobbies, or academic work, or recreation…some way. And Ms. Kate does an excellent job of matching. And typically the matching works because when the mentee finds out that the mentor who shows up every Tuesday cares about them? I say it's a slam dunk—they work out the rest of it.
Hal Martin and Andrew Zajac contributed to this article.
The opinions expressed in this article are those of the participants and do not necessarily represent the views of the Federal Reserve Bank of Cleveland or the Board of Governors of the Federal Reserve System.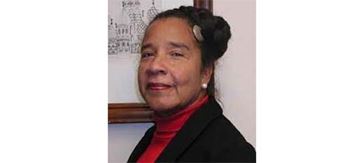 Faye Gary
Distinguished University Professor
Case Western Reserve University
Professor Faye Gary is a distinguished university professor at Case Western Reserve University. She is a faculty member in the Bolton School of Nursing, a fellow of the American Academy of Nursing, and a faculty associate at the Schubert Center for Child Studies. She holds a secondary appointment in the department of psychiatry in the School of Medicine at Case Western Reserve University. She earned an MS in children's psychiatric nursing and adolescent anthropology from Saint Xavier University and an EdD in special education and anthropology from the University of Florida. Dr. Gary is a founding director of the Provost Scholars Program, a partnership between Case Western Reserve University and East Cleveland City Schools to improve the academic outcomes of middle and high school students through academic-related activities at the university and mentoring relationships with faculty and staff volunteers.
Questions or comments about the Program on Economic Inclusion?