Increasing Broadband Access and Affordability: How the Affordable Connectivity Program Can Bridge the Digital Divide
As many aspects of daily life, such as jobs, education, and healthcare, move online, unequal access to computers and high-speed internet known as broadband can contribute to a gap in opportunity. This gap has been dubbed many different things—the digital divide, the connectivity divide, and the homework gap—and falls under the broader concept of digital inclusion. The National Digital Inclusion Alliance defines digital inclusion as activities that "ensure that all individuals and communities, including the most disadvantaged, have access to and use of information and communication technologies." According to the 2020 American Community Survey (ACS), just more than 13 percent of households in the Fourth District (which includes all of Ohio, western Pennsylvania, eastern Kentucky, and the northern panhandle of West Virginia) were living with no access to the internet, let alone broadband; this number climbs to almost 19 percent when considering only low- and moderate-income (LMI) areas.
Source: Federal Communications Commission and National Digital Inclusion Alliance
A lack of access to broadband and the unaffordability of broadband subscriptions are two barriers preventing households from fully participating in digital spaces. This Notes from the Field examines these broadband barriers and how the new Affordable Connectivity Program (ACP) may help.
Broadband Access and Affordability Are Considerations for Connectivity
When striving to achieve digitally inclusive communities, one must consider both access to and affordability of broadband. Across the Fourth District, many residents cannot access broadband services because their communities lack the technology. And often, even if a community has adequate technology, broadband services are unaffordable, especially for LMI households.
Access and affordability can manifest in different ways for urban and rural communities. In urban areas, cost is a major barrier to accessing both devices and monthly broadband subscriptions. According to BroadbandNow, 8 of 10 households in Fourth District states cannot afford a broadband subscription of $60 per month or more. Further, The Brookings Institution posits that urban areas are often excluded from digital equity conversations because households in the same community can vary so significantly in their ability to afford broadband. That is, as long as broadband is available, the fact that many cannot afford the service is often overlooked. In contrast, rural areas have issues with broadband availability due to topographic challenges and sparse population density that make installing broadband more expensive for (and therefore less attractive to) internet service providers (ISPs). Moreover, expensive broadband installation costs drive up subscription costs for households.
Though households in urban and rural communities face distinct challenges, consistent among all areas of the Fourth District is a lack of access to the internet. Data from the ACS shows rural and micropolitan1 areas see the highest proportion of households without any access to the internet—broadband or otherwise. Overall, Fourth District counties mirror national trends in relation to households without internet access. In addition, computers are a vital component to digital inclusion, and roughly 700,000 households in the Fourth District reported having no computer access. Households in rural counties tend to have less access to computers than other counties in the Fourth District, showing similar trends to the nation. It is unclear if households are without broadband access because of the cost or the lack of ISPs and places to purchase computers. If the latter, certain programs, such as the ACP, could make a significant impact in making broadband and devices more affordable.
Understanding the Affordable Connectivity Program
The ACP could prove a valid solution to the lack of affordability and access to broadband and computers in the Fourth District. Expanded under the Infrastructure Investment and Jobs Act, the ACP subsidizes broadband services and devices for low-income households. A household may qualify for the ACP's $30 monthly internet discount and one-time $100 discount toward a computer if they meet any of the following: the total income is 200% or less than the Federal Poverty guidelines (that's $55,500 for a family of four in the Fourth District), they participate in a government assistance program (for example, SNAP, social security, or Pell grants), or they are already receiving lifeline benefits. For many households, the discount would significantly decrease the burden of cost of a broadband subscription.
However, there are barriers to ACP participation. The program is voluntary for ISPs, and some areas may not have ISPs that participate in the program. Also, applications for households require several steps to verify identity and income. After applying, a household must find and contact a participating provider to activate the discount. These steps could be a barrier for working households or those that may not fully understand the requirements.
There is no exact way to compare ACP eligibility to ACP participation by county since eligibility data is at the family level, and ACP participation is at the household level. Understanding this caveat, we have estimated that many Fourth District households qualify for the ACP and there is demonstrated need for more affordable services, but the program is being underutilized (Figure 1). Still, the Fourth District, overall, shows a higher participation rate than the nation. Metropolitan, micropolitan, and rural areas all experience a gap in ACP participation versus eligibility, with the largest gap occurring in rural areas.
There are a few reasons why uptake might be low in the Fourth District. It is possible households are unaware that the ACP exists or that they qualify, some may find the application process burdensome, or there may not be a participating ISP in the area.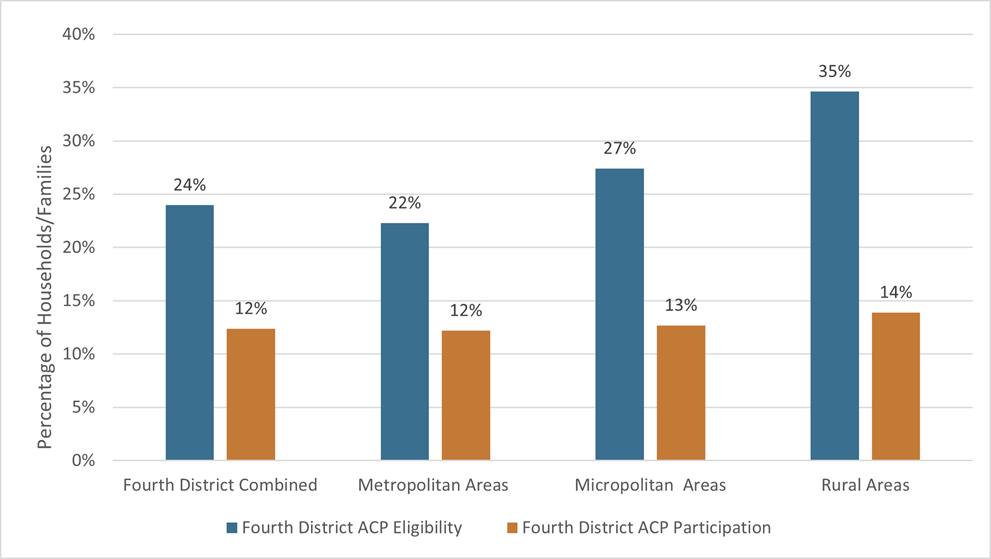 Moving Forward
To fully embrace the benefits of the ACP, barriers to participation must be identified and overcome. Perhaps the largest challenge the program faces is that ISPs are not mandated to participate. In areas absent of participating ISPs, households cannot benefit from the program even if they are aware of and qualify for it. Moving forward, additional federal funding for broadband projects is available to states that require all ISPs to participate in the ACP.
We hope this Notes from the Field can raise awareness of the ACP and encourage more participation among households in the Fourth District. With greater advertisement of the ACP, an increase in participating ISPs, and continued funding of the ACP, broadband can become more accessible for all. Greater access to online spaces can create opportunities for social and economic mobility and decrease the digital divide, especially for LMI households.
The views expressed in this report are those of the author(s) and are not necessarily those of the Federal Reserve Bank of Cleveland or the Board of Governors of the Federal Reserve System.
Footnotes
A micropolitan area is a county with urban core of at least 10,000 people but less than 50,000. Return to 1