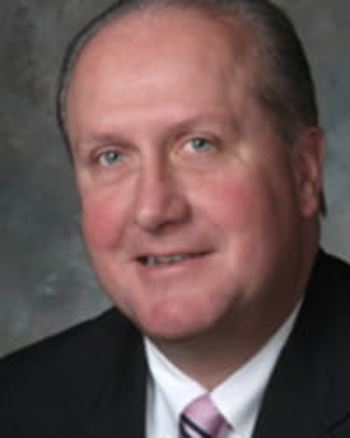 Dean J. Miller
President and Chief Executive Officer
First National Bank
Bellevue, Ohio
Class A Director
Sector Representation: Banking
Current term ends December 31, 2023
It wasn't what he expected to spend his early career doing, but lending to farmers during the farm crisis of the early 1980s planted lasting reasons to become the kind of banker Dean Miller says he still is 36 years later.
Having studied agricultural economics, Miller intended to do sales or management for farm supply companies. But by the time he'd graduated from The Ohio State University in late 1981, land prices were rising, commodity prices were low, interest rates were increasing, and "about the only places that were hiring ag degree [recipients] were agricultural finance operations."
So he became a lender at a time when he had more collecting to do than lending.
"Times were tough, and borrowers were stressed financially," recalls Miller, president and CEO of First National Bank in Bellevue. "You learned early on: You don't want to do this [primarily recoup debts] for your whole career. I became a very conservative lender, I think, because of that."
The farm landscape was one he knew well: Miller and his family (he's one of 12 children) raised hogs, beef cattle, milk cattle, and grain crops on a small operation in Clyde, Ohio. (In 2010, Clyde's population was 6,325.)
Miller remains rooted squarely in farm country: First National Bank is headquartered in Bellevue in northern Ohio in a market heavy in agriculture and also tourism and hospitality catering to those traveling to the shores of Lake Erie and local attractions including amusement park Cedar Point.
He expects to share the pulse of those diverse industries as a member of the Cleveland Fed's board of directors, which he joined in January 2018.
"I think I can help give the other directors and the Federal Reserve a feel for what's happening in rural Ohio and rural America," Miller says.
Surprises early on
Encouraged by a former board director to consider joining the board, Miller happily obliged.
"I thought it would be great," he begins. "The Federal Reserve System is so critical to banking; what I'm going to give, I know I'm going to get much more back."
Already, he notes, he's learning.
"Being a banker, I knew the Fed was the banking regulatory agency," Miller begins.
He's finding, though, that there is substantial work by the Fed outside its regulatory role.
"The Fed has so much of a role in understanding the communities in the state—that I was surprised by," he explains. "I don't know that a lot of people realize the full effect of what the Cleveland Fed does: the research that's non-monetary policy, non-banking. It's interesting to see why they're digging into some of these things."
Reflecting on his first meeting of the board, Miller says he's confident his active roles in numerous organizations, including an economic development organization in Bellevue, enable him to impart insights about what's going on with people and companies in the region.
One current challenge he raises? There are "not even close to enough qualified people" to fill the number of jobs open in the region—a view in line with those of other directors.
Miller and his fellow directors are tasked with regularly reporting economic conditions and trends in their corners of the Cleveland Fed's district and in their industries. That's different from the role he plays on other boards, he notes, because conventionally, board directors often are primarily involved in approving policies and financials.
The small bank difference
Miller has led First National Bank for 12 years. It has $210 million in total assets and seven branches serving five Ohio counties: Erie, Huron, Ottawa, Sandusky, and Seneca. Its branch in the village of Put-in-Bay is the only one on South Bass Island in Lake Erie.
Everyone knows what a bank is, Miller begins, but smaller, community banks operate differently than their larger competitors.
"We take the time to really dig and understand what their needs, their risk tolerances might be," he says of First National's customers, largely small business and commercial clients, their employees, and families tied to them. "We really counsel customers and coach them into appropriate products. It's a more consultative type of servicing than many types of retail service.
"A lot of businesspeople know how to run their businesses, but when it comes to finance, they're looking for advice," he continues. "I never want to steer somebody in the direction that could lead them down the wrong path."
Just to the right of the front door of the main office of the bank is Miller's office. ("People pop their heads in here all day long," he notes.)
"We're very involved in our communities," Miller says. "We ask our employees to volunteer, to participate in any way they can. When those communities that we serve are strong, that helps us. It creates opportunities for us."
"A community bank is so much different than a Wall Street bank," Miller adds. "I'm very positive [about the prospects for community banks]."
Fast Facts
Life lesson from banking
"Don't get too focused on a career path. Things change so fast, and opportunities come maybe quicker than you might think. Work hard and work smart."
Milestone anniversary
Miller and his wife, Deb, will celebrate 30 years of marriage in summer 2018.
On island time
First National Bank's branch on South Bass Island is open one day a week during the winter, two days a week during the spring and fall, and three days a week during the summer.
One of a dozen
Miller is one of eight boys and four girls. Miller's a twin, too. His mom, Anna Rose, is the person he most admires because she raised 12 children while their dad, a truck driver, was often away on the road.
When he's not working, he's outdoors
In the summer, he's at the pool or playing golf. He's also a fan of roller coasters. "I love the Dragster," he says, smiling. (The Top Thrill Dragster at Cedar Point lasts a mere 17 seconds while launching riders 420 feet skyward.)