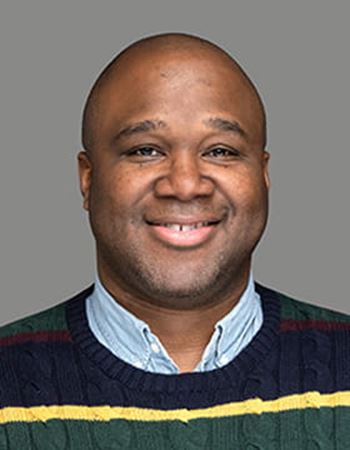 Education and Museum Outreach Manager
Khaz Finley is a manager in the Education and Museum Outreach Department at the Federal Reserve Bank of Cleveland. He is responsible for leading and guiding program development and execution for the department throughout the Bank's four-state district with an emphasis on outreach efforts in Northern (Cleveland, Akron) and Central Ohio.
Mr. Finley joined the Bank in 2018 as a coordinator within the Education and Museum Outreach department. In 2019, he was promoted to department supervisor. In 2021, he was promoted to the department manager role.
Prior to joining the Bank, Mr. Finley held a variety of roles within multiple school districts throughout Northeastern Ohio. He spent the better part of 19 years leading classroom instruction, developing and implementing programs (PBIS, career development, social emotional, mentorship), and guiding staff professional development in districts including Cleveland Metropolitan and Cleveland Heights - University Heights.
Mr. Finley is an advisory board member of the Barker Center for Economic Education and the United Way of Akron STEM Academies, belongs to the National Association and Economic Educators (NAEE), and is a part of the Junior Achievement of Cleveland Stock Market Challenge Advisory Committee.
Mr. Finley holds a Bachelor of Science in Educational Studies and a Master of Science in Industrial Organizational Psychology both from Grand Canyon University. He holds a Leadership and Management Certificate from Wharton School of Pennsylvania (Online), is a Registered Scrum @ Scale Practitioner, and is a Lean Six Sigma yellow belt.