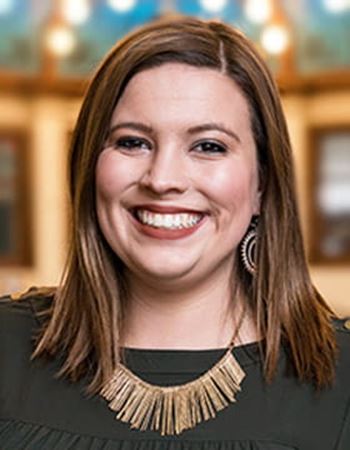 Education and Museum Outreach Coordinator
Elle Benak is a coordinator on the education and museum outreach team in the Office of Diversity, Equity, Inclusion, and Opportunity (ODEIO) at the Federal Reserve Bank of Cleveland. She is responsible for executing student programming, assisting in curriculum design, and educational outreach. Her work is focused on providing programming and resources to students and educators throughout the Bank's fourth district with an emphasis on outreach in Northeastern Ohio.
Ms. Benak joined the Bank in the summer of 2018 as an archives intern in the Research department. In the fall of 2018, she joined the Bank full time on the education and museum outreach team.
Prior to joining the Bank, Ms. Benak has worked primarily in the archival field helping organizations to preserve their history and artifacts. She has worked with the National Archives, the Archives of Ohio United Methodism, and the archives of Kappa Alpha Theta Fraternity.
Ms. Benak holds a BA from Ohio Wesleyan University with a focus in History, Business, and Women and Gender Studies. She is also a member of the Ohio Distance Learning Association.