Courage to Succeed: Women's Conference 2019
More than 150 diverse and talented women convened at the Cleveland Fed on Friday, October 18, in partnership with Ratliff and Taylor, to discuss, engage, and reflect on having the courage to succeed in today's complex professional landscape. Highlights included remarks from Cleveland Fed President and CEO Loretta J. Mester, and first Major League Baseball woman coach, and national nonprofit founder, Justine Siegal, PhD.
Throughout the day, speakers shared inspirational stories of success, failure, resilience, and fortitude. Attendees expanded their networks and took away strategies for being courageous in their own journeys of leading, influencing, taking risks and being authentic.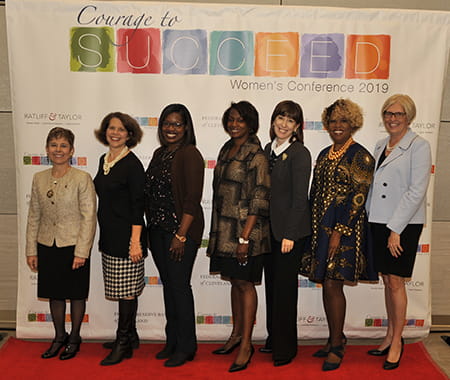 Speakers included:
Carolyn Williams, AVP Law Enforcement, Federal Reserve Bank of Cleveland
Teresa Metcalf Beasley, Chair of Public Law Practice Group, McDonald Hopkins
Marla Perez-Davis, Deputy Director, NASA
Erika Rudin-Luria, President, Jewish Federation of Cleveland
Cathy Belk, President, JumpStart
Alicia Robinson, Founder & Executive Director, Limitless Ambition
Lynn Larsen, Partner, Taft Law