Cleveland Fed announces new community development outreach manager
Treye Johnson will work on emerging neighborhood themes, with a focus on communities in northeast, northwest, and central Ohio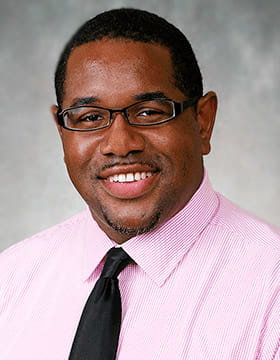 Treye Johnson has joined the Federal Reserve Bank of Cleveland as a regional outreach manager for the northern half of Ohio effective July 30, 2018. He will work with the rest of the Bank's community development team on current and emerging economic and community development issues across the Fourth District.
Prior to joining the Cleveland Fed, Johnson worked as a program officer for the Burton D. Morgan Foundation making grants to support entrepreneurship and entrepreneurship education across northeast Ohio. He also held positions at the George Gund Foundation and Saint Martin de Porres High School in Cleveland.
A native Clevelander, Johnson has a BA in communications from John Carroll University and an MA in sports administration from the University of Louisville. He is a proud volunteer within Hillcrest Hospital's neonatal intensive care unit.
The Cleveland Fed's Community Development Department is responsible for research, analysis, and engagement on economic issues affecting lower income communities. The group works to foster a better understanding of these challenges, promotes cooperation with a variety of stakeholders, and engages depository institutions in the goal of providing credit and banking services to their communities.
Federal Reserve Bank of Cleveland
The Federal Reserve Bank of Cleveland is one of 12 regional Reserve Banks that along with the Board of Governors in Washington DC comprise the Federal Reserve System. Part of the US central bank, the Cleveland Fed participates in the formulation of our nation's monetary policy, supervises banking organizations, provides payment and other services to financial institutions and to the US Treasury, and performs many activities that support Federal Reserve operations System-wide. In addition, the Bank supports the well-being of communities across the Fourth Federal Reserve District through a wide array of research, outreach, and educational activities.
The Cleveland Fed, with branches in Cincinnati and Pittsburgh, serves an area that comprises Ohio, western Pennsylvania, eastern Kentucky, and the northern panhandle of West Virginia.
Media contact
Doug Campbell, doug.campbell@clev.frb.org, 513.455.4479