Cleveland Fed announces new regional community development advisor at its Pittsburgh Branch
Drew Pack is responsible for outreach, research, and policy analysis in western Pennsylvania and the northern panhandle of West Virginia
Pack, who joined the Federal Reserve Bank of Cleveland on February 16, 2018, will work with the rest of the Cleveland Fed's community development team on current and emerging economic and community development issues across the Fourth District.
Pack joined the Federal Reserve System in 2009, starting at the Federal Reserve Bank of St. Louis. Pack worked as a regional public policy specialist in the Public Affairs Department before moving to the community development team. In that role, he provided advisory services and research on the topic of workforce development at the St. Louis Bank's Memphis Branch.
Prior to joining the Fed, Pack worked in an economic development role with the Pensacola Bay Area Chamber of Commerce in Florida. He also assisted in the establishment of iTenWired, a regional entrepreneurship network, and the Gulf Coast Center for Innovation and Entrepreneurship, a business incubator.
A native of Birmingham, Alabama, Pack graduated from Pittsburgh, Pennsylvania's Avonworth High School before obtaining a bachelor's degree from the University of Mississippi and a master's in public administration from Auburn University.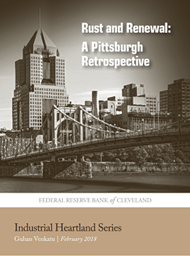 Rust and Renewal: A Pittsburgh Retrospective.
This report covers a near 50-year look at disparate ascents, declines, and recoveries in the traditionally manufacturing-heavy Midwestern industrial heartland. In Pittsburgh, author Guhan Venkatu finds a comeback story. The collapse of the steel industry sent severe shocks through this metropolitan statistical area. Today, the Pittsburgh area can lay claim to being an emerging energy center and high-technology hub.
In the report, Venkatu details the data behind this journey and discusses where Pittsburgh is headed for the future. Read it here along with reports on Cleveland and Cincinnati.
Federal Reserve Bank of Cleveland
The Federal Reserve Bank of Cleveland is one of 12 regional Reserve Banks that along with the Board of Governors in Washington DC comprise the Federal Reserve System. Part of the US central bank, the Cleveland Fed participates in the formulation of our nation's monetary policy, supervises banking organizations, provides payment and other services to financial institutions and to the US Treasury, and performs many activities that support Federal Reserve operations System-wide. In addition, the Bank supports the well-being of communities across the Fourth Federal Reserve District through a wide array of research, outreach, and educational activities.
The Cleveland Fed, with branches in Cincinnati and Pittsburgh, serves an area that comprises Ohio, western Pennsylvania, eastern Kentucky, and the northern panhandle of West Virginia.
Media contact
Doug Campbell, doug.campbell@clev.frb.org, 513.455.4479