Rust and Renewal: A Cincinnati Retrospective
Much like that of the United States, the economic landscape of Cincinnati has been remolded and reshaped as the region has transitioned from a diversified industrial base to a heavily service-oriented economy. This report evaluates the performance of the Cincinnati metropolitan statistical area (MSA) on key economic indicators such as employment, unemployment, population, real per capita income, and educational attainment during the period from 1969 to 2016. It also explores more recent developments in the MSA's economy and discusses the region's prospects for future growth. Comparisons are made not only to the performance of all metropolitan areas in the United States, but also to a subset of historically manufacturing-intensive metropolitan areas this report terms "the industrial heartland."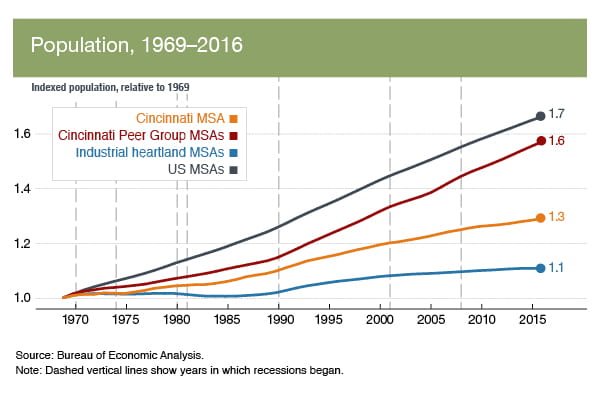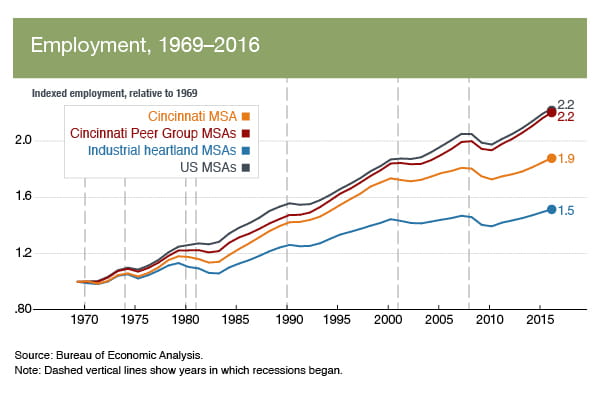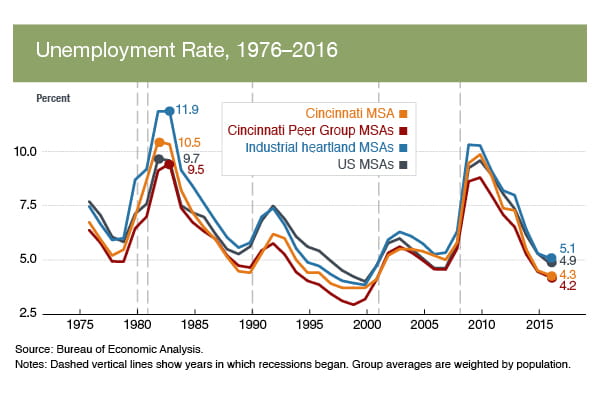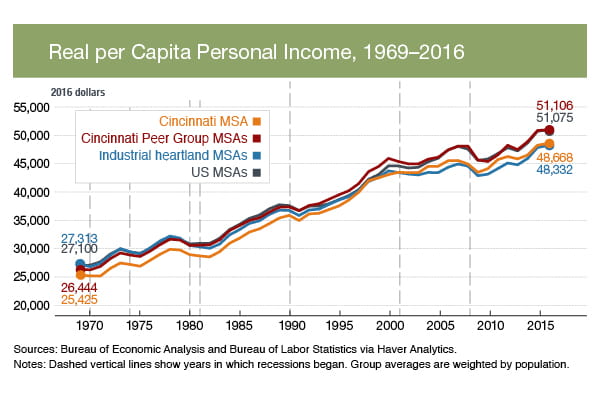 The key results of our analysis of the Cincinnati MSA's economic performance are the following:
In terms of population, employment, real per capita income, and educational attainment, the Cincinnati MSA has outperformed the typical industrial heartland metropolitan area but has underperformed relative to the average metropolitan area in the nation as a whole.
Much like the industrial heartland, the Cincinnati MSA was harder hit in terms of job losses by the national recessions in the early 1980s than by the Great Recession.
Although the Cincinnati MSA remains a manufacturing-intensive region relative to the nation, it is now solidly a modern service-oriented metropolitan area led by business-management, financial, and accounting activities.
The region has a culture of innovation, with patents being granted at a higher rate to businesses and individuals within Cincinnati than to those within the typical industrial heartland metropolitan area. However, the distribution of patents is highly concentrated among a few organizations, a situation which could result in the MSA's future growth prospects' being more vulnerable to disruptions.
Cincinnati has made solid strides toward reclaiming itself as a center for the arts and for unique architecture in the Midwest. Combined with investments in workforce development and education programs to boost productivity, the MSA can become a more attractive place to live and work with more inclusive opportunities.
Download the complete Report | Download the Suppressed Data and Imputation Appendix