Food Insecurity Revisited
An increase in visits to food banks across the region in 2023 prompts a look at how inflation and the expiration of pandemic aid are pinching low-income household budgets and may be increasing food insecurity in the Fourth District.
Many areas across the district including Cleveland, Dayton, Columbus, Eastern Kentucky, and Pittsburgh have seen rising food bank usage. Among states served by the Cleveland Fed, Feeding America's Map the Meal Gap estimates in 2021 that 11.7% of West Virginians, 11.8% of Ohioans, and 12.9% of Kentuckians have trouble putting food on the table or are food insecure.1 With exception of Pennsylvania (9.4%), these percentages are above the national average of 10.4%. And in our 2023 Community Issues Survey (CIS), several of our contacts noted that the ending of pandemic era benefits, rising food and gas prices, and a lack of affordable housing have increased the need for emergency food. All of these indicators, combined with a 2021 Pew Research Center study that found that over half of lower-income parents reported that in the previous 12 months they did not have enough money for food, prompts us to revisit a previous Notes from the Field on food insecurity and food bank usage.
Inflation, Loss of Pandemic Aid
Lower-income families' budgets have become even more squeezed with the end of pandemic benefits and the rise in food inflation. Many pandemic emergency measures expired in February 2023, including the temporary benefit increases allotted to families qualifying for the Supplemental Nutrition Assistance Program (SNAP). These emergency benefits provided a minimum of an extra week $95 per month per household, and significantly more depending on family size. A blog post by the Center for Community Solutions estimated that the average temporary additional allocation was $172 per household in the state of Ohio. According to the Ohio Association of Food Banks May 2023 survey, with these supplementary payments, 30% of SNAP participants said benefits lasted the full month, while only 5% said benefits covered the entire month after the expiration of the extra support. In addition, inflation and supply-chain disruptions have caused the largest annual increase in food prices since the 1980s. Low-income households are particularly vulnerable to these increases because they spend a greater share of their income on food. The USDA estimates that households in the lowest fifth of the income distribution spend roughly $5,090 on food, equating to roughly 30 percent of their income; those in the highest fifth spent $15,713, representing only 8 percent of their income.
Turning to Foodbanks
As with many foodbanks, visits to the Greater Cleveland Food Bank (GCFB) fluctuate seasonally and with families' needs, but the recent upward trend in usage is clear. Based on data from the food bank, pandemic visits peaked at 82,984 in August 2020 and bottomed out at 46,241 visits in January 2022 as impacts of the pandemic waned (Figure 1). Since then, however, visits have climbed back to exceed pandemic levels, peaking, so far, at 84,478 in August 2023, with a slight decline in September. Perhaps more concerning is that in September 2023, 59,785 unique families used the foodbank, compared with 47,382 families in August 2020. The increase may be an indication that the local food insecurity problem is getting worse.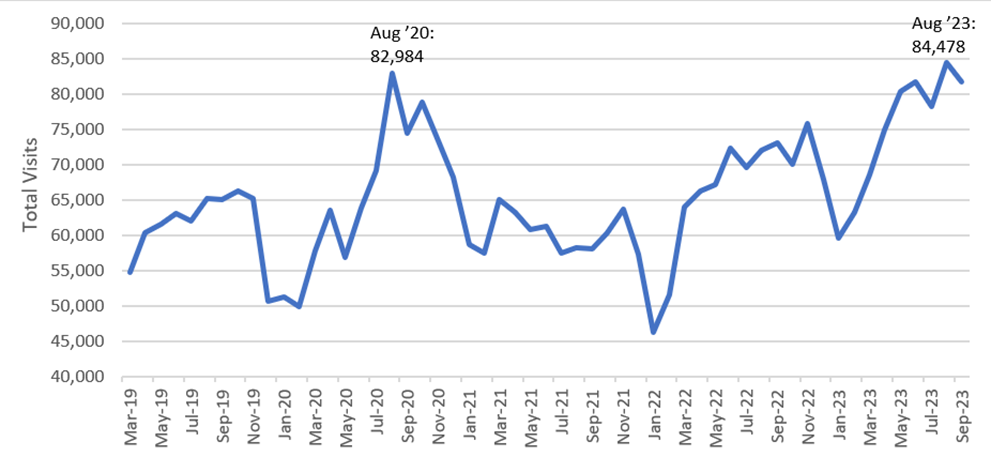 The views expressed in this report are those of the author(s) and are not necessarily those of the Federal Reserve Bank of Cleveland or the Board of Governors of the Federal Reserve System.