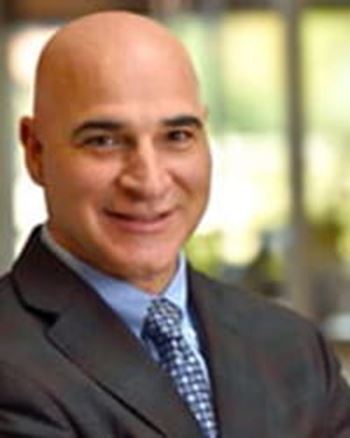 Nishan J Vartanian
Chair, President, and Chief Executive Officer
MSA Safety Incorporated
Cranberry Township, Pennsylvania
Appointed by the Federal Reserve Bank of Cleveland Board of Directors
Sector Representation: Manufacturing
Current term ends December 31, 2024
November 2022
Starting as a sales intern with MSA Safety in 1985, Nish Vartanian is eager to share the stories that keep him passionate about the company, its mission, and the colleagues he's worked with during the past 37 years. Founded 108 years ago, MSA specializes in the development, manufacturing, and supply of safety products that protect people and facility infrastructures in hazardous environments.
It's hard not to be moved by the stories Vartanian shares, from the company's historical ties to Thomas Edison (who helped develop its first product) to a more recent anecdote of a young firefighter who was saved from a flash fire thanks to his protective gear, which included an MSA safety helmet. Six months later that same firefighter shared a picture of his newborn son, small enough to be placed inside the happy father's brand new MSA helmet, and thanked the company for a product that helped give him the opportunity to see his son grow up.
"That's why I get up and come to work every day," Vartanian says. "It's exciting see our engineers design and develop products that protect people's lives."
He recalls being an intern and hearing these words from the chair of the board: "Our product saves people's lives, so never misrepresent what our products will do for our customer."
Keeping workers safe motivates Vartanian, and so does the effort to innovate. It's easy to tell how impressed he is by the work that the mechanical, electrical, and software engineers do each day to create products on which people's lives can, quite literally, depend. "It's easy to get excited about the work when you know that your products get people home safe at night," he says.
Investing in employees
Vartanian knows that while the products keep employees motivated and invested in the company to a degree, employees are also motivated by the company's investment in them and in equality. "Forty-seven percent of our professionals at MSA are women," he says, "and when you look at industrial manufacturers, that number is typically under 30 percent, so I think we've fostered an environment where we don't feel we have a glass ceiling here."
When the company looks to fill certain roles, recruiters often look inward at the current workforce. The strategy makes sense. After all, Vartanian started as an intern and is now CEO, so he experienced firsthand the company's intent to invest in and provide opportunities for employees: "We go down into our organization and find individuals who don't have a college degree and give them the training and the tools to succeed."
This vested interest in workers was likely built early in his career with MSA. As a sales intern, he visited thousands of industrial jobsites, meeting workers to learn about them, their work, and how the products he was selling helped keep them safe.
Engaged and inspired leadership
Today, decades and different roles later, Vartanian's typical day includes thinking about day-to-day operations, checking in with the management team, discussing supply chain issues, considering a tight labor market, and keeping in mind MSA Safety's strategic plan.
"There are three key things that any CEO should be focused on," he says, "improving your market position, making sure you have the right people and improving your talent—you won't get anything done without having a strong executive leadership team and a strong pipeline below—and making sure you have a strong balance sheet."
Of course, a 108-year-old company might be considered a fixture in the Pittsburgh community, and Vartanian explains that a good portion of his time is spent out in the community. He's often speaking to local business organizations or involved in the charity work MSA does to support education organizations, arts programs, and the national association of firefighters.
Bringing insights back to the Bank
Since joining the board of directors in January 2022, Vartanian has been impressed with the people working at the Cleveland Reserve Bank and hopes to learn more about how the Federal Reserve helps the economy. He is also looking forward to providing his own insights on supply chains, labor costs, and how inflation is affecting businesses.
"I equate my role on the board of directors to how I view my company's look at our salespeople: They bring back information to us about customers, businesses, and markets. I'm kind of that salesperson for bringing information back into the Federal Reserve as to what we're seeing in the marketplace today and how it's impacting business."
Fast Facts
Finding inspiration
He cites his parents and many mentors in his life, such as coaches and friends, as positive influences. Those close to him taught him to treat people with respect, fostered a strong work ethic, and taught him what values matter the most.
Staying active
Golfing with friends and finding time to work out are important, and Vartanian enjoys the mental break both activities can provide.
Invested in safety
Vartanian first joined MSA Safety after finding an opening for an internship in a newspaper ad. He says that of all the positions he's held at the company, regional manager has been his favorite.