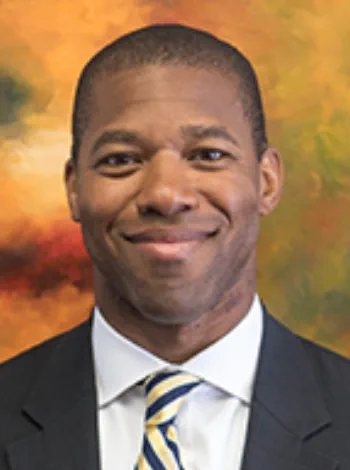 George Sample is Vice President in the People and Culture Department and deputy director for the Office of Minority and Women Inclusion. In this role, Mr. Sample leads the Bank's internal diversity, equity, inclusion, and opportunity initiatives and drives an inclusive workplace culture.
Mr. Sample joined the Bank in 2019 as manager of the human resources business partner team. In this role, he coached, supervised, and managed the team and the duties and initiatives in the areas of employee relations, employee engagement, succession planning, and workforce planning. The following year, he was promoted to senior manager and oversaw the expansion of the human resources business partner team. His efforts were integral to the Cleveland Reserve Bank's transition to a remote work posture during the COVID-19 pandemic.
Prior to joining the Cleveland Reserve Bank, Mr. Sample served as the director of human resources at the Cuyahoga County Public Library and worked in multiple human resources management positions at the Northeast Ohio Regional Sewer District and the Lubrizol Corporation. His areas of expertise range from talent acquisition and retention to diversity and inclusion initiatives and leadership development.
Mr. Sample is the president-elect of the board of directors of the Cleveland Society of Human Resources Management and serves on the board of directors for United Way of Greater Cleveland and John Carroll University. He has remained active with his college alma mater. He is one of the founding members of the John Carroll University Diverse Alumni Network and a past president of the John Carroll Alumni Association. Mr. Sample currently serves on the steering committee of the university's athletic booster club, the Blue Gold Club.
Mr. Sample holds a BA in computer science and an MBA from John Carroll University. He is also a graduate of the Diversity Center of Northeast Ohio LeadDIVERSITY program.