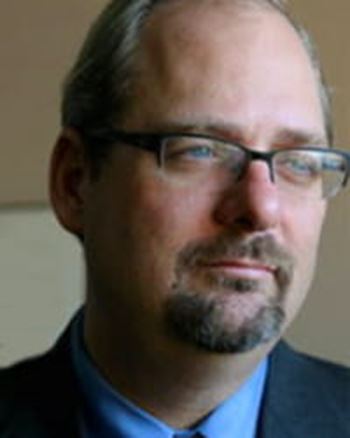 David Megenhardt
Executive Director
United Labor Agency
Cleveland, Ohio
Sector Representation: Labor
There's a human cost to change, and that cost felt especially biting on this morning. Without warning, a company had laid off hundreds. A union rep called and informed United Labor Agency of the scene: People were reporting for their shifts on Christmas Eve only to find the company gates locked.
"We went to the plant gates and as people were coming to work, we were talking with them and giving them information for next steps," the agency's executive director, David Megenhardt, recalls. "That stuck with me. You had 300 bewildered people that we had to help, try to get their minds right, and to move on."
Megenhardt, a member of the Cleveland Fed's board of directors, had encountered this upheaval himself. His father was one of the most senior rubber factory workers when the bottom fell out of Akron's rubber industry. Though his father had worked for a company for decades, his career suffered an unceremonious end.
"That imprinted on me," Megenhardt says. "You see the massive upheaval, your whole way of life changed right in front of your eyes. When he was laid off, it was devastating for our family. He made do because he was close to retirement, because he had a union pension."
United Labor Agency, a nonprofit now in its 46th year, traversed the state during the Great Recession, a time of intense need. Long before the downturn, too, it's responded locally to help people find and retrain for new careers as trades, including heavy manufacturing, have retracted.
"You see in the newspaper: '100 People Laid Off,' but when you are there with them, you know they're mid-career, have kids wanting to go to college, have mortgages, and you take it to heart and you want to find them new opportunities," Megenhardt says.
United Labor Agency employs 110 and serves Cleveland, Akron, Lake County, and Pittsburgh's Allegheny County. Like the Federal Reserve Bank of Cleveland, Megenhardt and his team monitor and respond to economic conditions.
Megenhardt joined the Cleveland Fed board in January 2017. A question he fielded as a new member was, are companies having difficulty finding employees? According to a recent employer survey United Labor Agency conducted, he told the group, the answer is yes—to the tune of 78 percent of respondents.
Megenhardt feels the input he gives is valued; he values the input he hears from around the table, too.
"On a nonprofit board, you're trying to do fundraising and having discussions around process and mission, whereas this, you're bringing these experts around the table to have a very high-level discussion about the economy," he says. "To hear not only the economists dive deep into the statistics and interpret what's going on, it's fascinating and it helps ground me. I often only see the anecdotal. I can have two companies close and think maybe the world's falling apart, but when I see a broader picture, it helps me to understand it, to put it into context."
'Never stop learning'
Meeting as part of the board of directors gives Megenhardt the opportunity to step away from his acutely reactive day-to-day work.
"When you're running an organization like mine, what I find is I value time in which I can meditate or concentrate or do research, have a moment when I'm stepping back from the daily crises to think in a high-level way," he says. "I don't have to react. I can have some input. That's very valuable."
Similar to the way the board of directors discussions are meant to inform the Federal Reserve's monetary policymaking and regional outreach, they also inform Megenhardt's own decision-making, he says.
"The other board directors have diverse backgrounds," he begins. "I don't generally have an ongoing conversation with bankers. To hear about their experiences allows me to make better-informed decisions in approaching what we at United Labor Agency do."
United Labor Agency staff serve thousands of people every year, assisting them in finding part-time and full-time work; in one recent year in Cuyahoga County alone, ULA employees assisted some 4,000 people. The organization also helps place workers into vocational training.
If there's a life lesson that workforce development work has taught Megenhardt, it's this: "You really can never stop learning. You have to constantly invest in yourself. The economy changes so quickly that you just have to."
He continued with more tactical advice for workers: Stay aware of what industry conditions are and don't assume a company or industry will be viable indefinitely.
"The people who can get really hurt [are those who] get into something that pays well and they want to stay in it; they're put into a box," Megenhardt says. "Then that same box isn't there anymore and they have to completely reengineer themselves. That can be very tough mid-career. The pay cut that you have to take is usually pretty massive."
Don't get discouraged, he urges. Get improved.
Voices converge
Megenhardt is casual and smiles a lot during this interview. But he doesn't let the conversation end without noting there's a seriousness to being a director, and he's honored to do it.
"I really appreciate the seriousness of it, the idea that you're serving the country in your small way," he says. "I want the economy to work for everybody and I want it to be equitable; I want people to be able to prosper and grow. That's what drives me to lend a voice to the ongoing dialogue."
The breadth of the Federal Reserve's work is not something he knew before he began his directorship. For example, he'd had no idea that the Bank's eGov Department facilitates revenue collection for the US Treasury. As executive director of the United Labor Agency, he had engaged with the Cleveland Fed's Community Development Department before.
The latter function is evidence that the Fed understands the economy is about people, not just interest rates.
"I think the Fed is uniquely positioned to convene: They have the gravitas for people to listen, they can be a neutral meeting place for the community where you can bring competing agendas together to discuss an issue," he says. "They're interested in what's happening on the community level, and all of that input can make better policy and can better inform economists."
Fast Facts
Academia, reconsidered
When Megenhardt enrolled in Case Western Reserve University's English graduate program, he aimed to become a professor. But a job introduced him to a nonprofit association, for which he started writing grants. The work of confronting neighborhood issues, he decided, was a more interesting path.
Age
Big reader
When he's not working, he's reading in the sunroom he renovated. He's also written and self-published novels.
It's writers he admires
"I love language. I read fiction and nonfiction. A great writer can put you in a world that a movie doesn't come close to achieving. It uses our minds to create the image or the scene."
Native of
Outnumbered 3-1
Megenhardt and his wife, Sarah, have two daughters, Vivian, 10, and Claudia, 19.