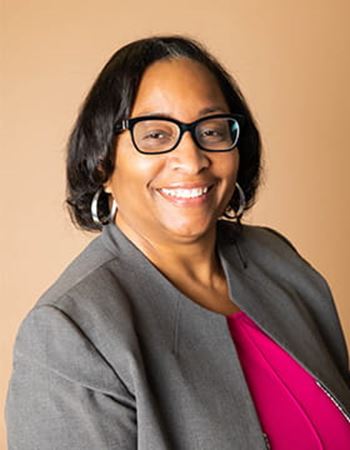 Gina McFarlane-El
Chief Executive Officer
Five Rivers Health Centers
Dayton, Ohio
Appointed by the Federal Reserve Bank of Cleveland Board of Directors
Sector Representation: Healthcare Delivery
Current term ends December 31, 2025
June 2023
Gina McFarlane-El was wary when she was first asked about her interest in serving on the Federal Reserve Bank of Cleveland's Cincinnati Branch board of directors.
"When I thought of the Fed, I primarily thought that they only want to hear from bankers, that they only want to hear from economic development people," McFarlane-El recalls.
Plus, she says, "I hated economics as an undergraduate."
McFarlane-El overcame her reticence, joined the board, and was pleased to discover Cleveland Fed leaders' curiosity about her work.
"It was like, we want to find out what's going on in your world and how can we learn more about what makes your particular organization tick."
In McFarlane-El's case, the organization is the Five Rivers Health Centers, a Federally Qualified Health Center (FQHC) with nine locations and nearly 300 employees in the Miami Valley region that is anchored by Dayton, Ohio.
As an FQHC, Five Rivers is a nonprofit that focuses on providing comprehensive and preventive health services—everything from vision and dental care to basic checkups and mental health and substance abuse services—regardless of ability to pay. Uninsured patients are charged sliding-scale fees based on income.
A comprehensive approach to healthcare delivery was familiar and appealing to McFarlane-El because of her childhood experience with it as a patient. Her mother, a school nurse, and her father, a train dispatcher, found that a community health center with a wide range of services was the solution to coordinating healthcare for her and her four siblings.
"All of the kids were seen at one time, and so we could see the doctor, we could see the dentist, and any prescriptions that we had could be filled, as well," says McFarlane-El, who grew up in Teaneck, New Jersey, just outside New York City. "It was just something that always stayed in the back of my mind: If I could ever be in charge of one of those sites, I would love to do it."
McFarlane-El majored in healthcare administration at Fisk University in Nashville and collected a pair of master's degrees, one in business administration and the other in public health, from Columbia University before embarking on a decades-long career in healthcare management in Detroit and Dayton. McFarlane-El, who lives in Dayton, has three adult children.
Her chance to run a comprehensive primary care organization came in 2011 when ambulatory care clinics linked to Dayton-area hospitals she worked for were spun off as an FQHC, with McFarlane-El as CEO, a position she still holds.
McFarlane-El says she brings a perspective that complements other healthcare voices on Fed boards: "Most of the times hospital executives are the ones who serve on boards such as the Federal Reserve," running larger organizations focused on surgery and other treatment of people who are already sick.
Five Rivers is much smaller in scale, akin to a small business, she says, and most of its patients are poor.
"For us, it's about seeing as many people as (often) as we can, giving them the resources so that they can stay well and not have to use the emergency room and not become an inpatient," she says. "If we don't keep our patients well, then they're going wind up in the hospital."