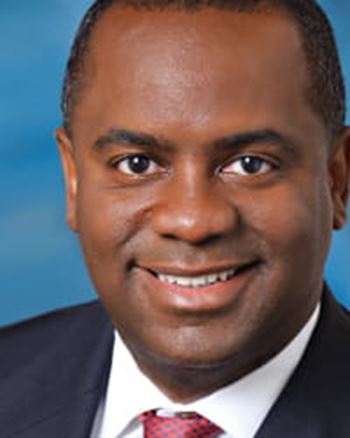 Darin C. Hall
President and Chief Executive Officer
Civitas Development Group
Cincinnati, Ohio
Sector Representation: Real Estate and Construction
October 2021
Darin Hall was doing all the right things to advance his career. Climbing up the corporate ladder. Gaining more responsibility and respect with each new position. After nearly a decade in commercial and investment banking, he made the move to the Coca-Cola Company. It was there, as a young executive in mergers and acquisitions, that he had a "crisis of conscience": "I asked myself, 'What am I really doing?' Coke is a magnificent company in terms of being able to execute on a global scale, but I felt committed to do more."
The something more
He wanted to serve his clients, of course, but he also wanted to take it further, to make an impact on the community. "What I began to realize was that if I could use my skills to help a church expand some of its social services, then maybe that could create jobs," he says. "Or if I could get an entrepreneur a line of credit to buy a building, he or she could build a business, and that means I'm helping create jobs that impact the community."
After discussing the move with his wife, Agnes, Hall left the corporate world and launched his first business, DCH Capital Group. His goal was to "bridge the gap between opportunity and capital." His clients were nonprofit organizations, entrepreneurs, and high-net-worth individuals.
"I knew people who were looking to invest money, and I knew people who needed to get it, but they didn't know how to have the conversations with each other to make it happen," Hall explains. "My thought was that I would put them together."
His clients were in the areas he knew best: Baltimore, where he grew up, and Atlanta, where he was currently living. In Baltimore, he got involved in the Poppleton neighborhood, a 40-acre parcel of land near the University of Maryland's new biotech project. While consulting with the Poppleton Village Community Development Corporation (CDC), Hall found items in contracts from previous business transactions that would be beneficial to the organization but were going unnoticed. For example, he pointed out that the CDC was entitled to equity in the property once the payment terms were reached, something which the staff hadn't realized because they just weren't experienced in reading 80-page loan documents. They were appreciative, acknowledged that the business side of community development wasn't their strong suit, and offered him a job as their executive director.
Closer to home
The constant travel between Baltimore and Atlanta was taking its toll, though. After a family discussion, Hall decided to stick closer to home with his wife and two young daughters. Around this time, he was asked by members of his Atlanta church to give a presentation to its members about his career. After his presentation, Hall was approached by an audience member who was an employee to the Annie E. Casey Foundation, a three-billion-dollar nonprofit organization focused on making lives better for vulnerable children and families. The two talked about a project that the foundation was funding in the Atlanta area.
"The organization had a newly created position for a deputy director of neighborhood transformation," says Hall. "When I saw the job description, I had done eight of the 10 things on the list, and I wanted to do all of them. It was a way for me to really learn economic development strategy on the neighborhood level."
One of his first assignments was with the foundation's Atlanta Civic Site, where he helped accumulate a portfolio of 300 properties that were foreclosed and abandoned and would be turned into affordable housing for income-challenged families. Hall admired the mission of the Casey Foundation. Not only was it investing in the physical structure of the homes, but the organization also wanted to make the residents of those homes stable and better off—like making sure the means to remove barriers to employment, such as access to job training and early childhood education, were available nearby. Or, as Hall explains, he wanted to ensure there were all the things necessary in addition to affordable housing that would make a neighborhood a great place to live.
Next stop: Cincinnati
He spent a little more than four years with the Casey Foundation in Atlanta. Then his wife, who was a retail executive for Macy's and its subsidiaries, was recruited to the department store's corporate headquarters in Cincinnati, Ohio. The family moved there in 2012, and Hall took a job as vice president with the Port of Greater Cincinnati Development Authority and in 2015 was promoted to its executive vice president. It's not the typical port authority, he explains, but a real estate-focused economic development entity that also runs the land bank for the county. Hall would be putting his neighborhood experience to use at the county level for a much broader impact than he'd previously been able to achieve.
While at the port authority, he was approached to serve on the Federal Reserve Bank of Cleveland's Cincinnati Business Advisory Council. A year later, he was invited to apply for a spot on the Cincinnati Branch board of directors. Members of both the advisory council and the board provide data to Federal Reserve leadership on current economic conditions from the perspective of their organizations, industries, and regions.
"I learn a lot in these meetings," he says. Hall also shares a lot. The group counts on his information about economic development, happenings at the municipal level, and his viewpoint as an entrepreneur. He also finds that his Fed appointment is a great topic of discussion for the clients with whom he works, allowing him to answer questions and share what he knows about the institution. "When I say I'm a Fed board member, additional conversations happen that wouldn't otherwise," he says. "Most people are curious about what the Fed does, how it works, and why they should care about it. Being able to explain that to them is really important."
Transforming more neighborhoods
In 2018, Hall started his second company, Civitas Development Group, an organization that consults with private and public landowners; designs, plans, and builds or renovates single-family homes, multifamily residential, and commercial spaces; and then connects with investors to facilitate improvements.
Most projects are Ohio based, mainly in Cincinnati, Columbus, and Dayton. Currently, he's involved in a 25-unit development project in the Evanston neighborhood of Cincinnati. The economy of this area went through a significant change when urban renewal brought highway construction that devastated Evanston's once lively business district. Civitas is working on a $5.2 million undertaking in which new moderately priced single-family homes will be ready for sale in 2022. "It's transformational for that neighborhood," Hall says, "and is another step in revitalization of the neighborhood."
Another project in the works is a new 200-unit building in St. Bernard, just north of the University of Cincinnati. A much larger effort, this one is a $36 million mixed-use deal that includes 10,000 square feet of retail space along with the housing units.
All of his prior experiences have shaped him and led Hall to where he is today: "It's all prepared me to be here and to have the greatest impact that I think I can have," he says.
Fast Facts
Pathway
Hall studied at Morehouse College, a historically Black college, and later completed his MBA at Clark Atlanta University. He began his career in commercial banking and worked at the First National Bank of Maryland, Wells Fargo in San Francisco, Bank of Boston, and the Long-Term Credit Bank of Japan
Family, food, and fun
Hall lives with his wife, Agnes; their 21-year-old daughter, Grace, and 16-year-old daughter, Sarah; and his mother, Doris. Sounds like a full house, but, he says, "We like to cook together, play golf, and travel. I'm a grill master." Preparing great steak is his specialty, while his wife, whose family hails from the Mobile, Alabama, area, "makes a mean seafood gumbo" and other Creole dishes.