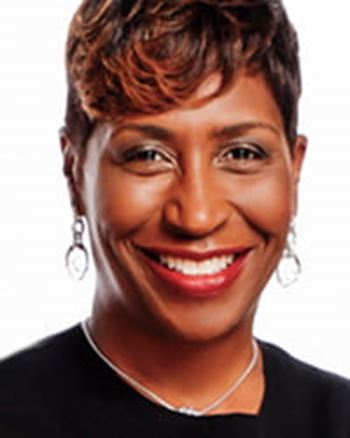 Jacqueline Gamblin
Chief Executive Officer
JYG Innovations
Dayton, Ohio
Class B Director
Sector Representation: Information Technology
Current term ends December 31, 2024
August 2022
When Jacqueline Gamblin revealed to her CEO that she was leaving the East Coast company with which she'd spent a large portion of her career, the leader asked where she was going and seemed prepared to counter the offer she'd accepted. But Gamblin wasn't leaving for another job.
"When I tell people I started a business in 2009, they're always like, 'What?'" she says, conceding that she did take the leap during the Great Recession. "I always say I stepped out on faith."
From the kitchen table in her house, Gamblin secured her business name in late November, and by January 1, she was back to work, only without all of the business travel her daughter Erica and she had become accustomed to. "My daughter was getting ready to go into high school, and I had traveled for most of her early life," Gamblin explains. "My mom died in 2008, and it was one of those moments when you think about what really matters. I can't get time back, and I felt like I was losing this quality time. I still work a lot, but I control my own destiny."
Today Gamblin's Dayton-based company, JYG Innovations, employs around 150 people across six states and specializes in information technology solutions, cybersecurity, research analysis, and medical and clinical consulting services for government and commercial clients.
The career she didn't know she wanted
Ironically, Gamblin the undergraduate was decidedly disinterested in a career in technology. She imagined every person sitting at a computer developing code, "and that sounded so boring." She chose to study biology with a focus on pre-med. Toward the end of college, she was looking for a part-time job that fit her schedule and was close to her classes at Wright State University. She found it: A company across the street hired her for a data entry position. During that time, two things occurred: She decided not to pursue medical school, and she discovered an interest in other areas of technology, such as systems security.
The career she's since forged in technology, though, has a foot in healthcare because Gamblin began systems security work when HIPPA—the Health Insurance Portability and Accountability Act of 1996—began requiring the creation of national standards to protect sensitive patient health information from being disclosed without the patient's consent. Armed with experience in the defense sector, Gamblin visited hospitals to advise administrators about increasing the privacy and security of their systems.
Confident that HIPAA and all it required of such healthcare providers would be significant, Gamblin made healthcare professionals and their IT concerns one of the focus areas of her company. Today, most JYG staff support the Department of Defense, providing information technology solutions and supporting enterprise IT systems and military healthcare-related applications.
Years into her IT career, she's still learning; the spread of COVID-19 and the economic shutdown taught her patience, Gamblin says. "Things did not move at the speed to which we had grown accustomed," she says of the pandemic's impact. "There was a lot of waiting, a lot of uncertainty, a lot of things we couldn't control." It used to be that Gamblin and her staff would be out and about at industry days and conferences, pursuing new business. None of those things were happening, and fewer people were taking calls. She saw these challenges as an opportunity for improvement: "We decided, let's use this time wisely. Let's stop and think, can we do some things better? When we got to the other side of the economic shutdown, we were a better company because of it."
Lifetime love of learning
When asked what life lesson her IT career has imparted, Gamblin doesn't hesitate.
"People will deliver if you give them an opportunity. In our industry, we tend to think everybody should have the same cookie-cutter background. We've seen time and time again that when we've been intentional about giving someone an opportunity because they had characteristics that would make them successful—even if their resume lacked something else—those people are superstars. It's just a beautiful thing. Do you have a willingness to learn? You're bright?" she says, "Then why not?"
One can trace Gamblin's own love of learning back to summers spent playing until the streetlights buzzed on at dusk. Her dad and mom gave her time to explore, but only after her chores were done and done well—her dad used to wipe the base of the toilet near the floor with his finger to check. Her parents expected her to learn a new word daily and to read a story and provide a written summary of the story upon their return from work. As long as she met these expectations, the rest of her summer days were spent riding her bicycle and playing soccer, baseball, and basketball with neighborhood kids.
"I didn't realize the freedom, yet structure, that gave me," she reflects. "My mom and dad, I give them all the credit. They allowed me to blossom and still have structure."
In January 2022, Gamblin became a member of the board of directors of the Federal Reserve Bank of Cleveland, representing the IT sector. She knew she'd learn more if she said yes when asked to serve because she'd served on one of the Bank's business advisory councils for years. "I was familiar with the practice of business experts' sharing lessons learned, impacts felt on their particular industries," she says of serving on the council. What she didn't experience until she joined the board was listening as economists painted a fuller picture of the US economy and deepening her understanding of the Federal Reserve's role, particularly the way it responded to the pandemic and the "why" of its responses.
"I just find it so interesting," Gamblin says. "I can see how things are connected. It's an amazing opportunity to be in the room with such bright people and to represent my community and my industry, to have a seat at the table." She adds that it's not group think, either; it was clear to her during the director orientation that Fed staff were really interested in hearing everyone's unique perspectives.
Fast Facts
Home sweet Dayton
Though born in Selma, Alabama, Gamblin has lived in Dayton, Ohio, since the first grade. Her father retired from the military at Wright-Patterson Air Force Base. "I'm thankful that as a military kid, I got to meet people from all over the world."
Athletic affinity
Gamblin learned a love of sports from her mother, who would watch basketball on television while listening to baseball on the radio. A huge Cincinnati Bengals fan, Gamblin loves competition and rooting for underdogs. She works to stay fit with the help of a personal trainer.
When she's reading, she's choosing
. . .romance novels. "I like to read to turn my mind off from the day-to-day grind."
Her foundation
She leans on the faith she learned from her parents. "The thing that keeps me going through things—and not get too high or too low—is faith in God."