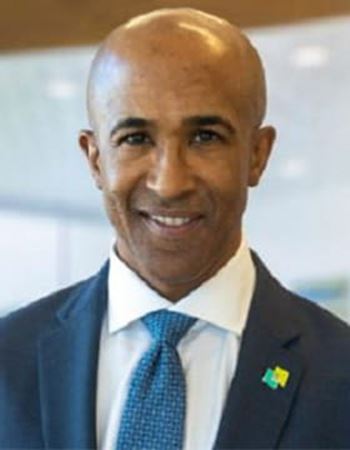 Gene Boyer III
Brokerage Advisor
NAI Burns Scalo
Pittsburgh, Pennsylvania
Appointed by the Board of Governors of the Federal Reserve System
Sector Representation: Real Estate and Construction
Current term ends December 31, 2025
August 2023
In 1995, Gene Boyer took advantage of an offer from a business acquaintance to oversee the construction of a strip mall.
Having grown up with an engineer father, Boyer was adept at reading drawings and had an understanding of the construction process, so he confidently accepted the opportunity.
He quickly eased into his new assignment tracking expenses and invoices and performing and documenting quality control tests, beginning what has since become a nearly 30-year career in construction and real estate. "I wasn't a seasoned construction guy yet. But I knew if something didn't look right in the paperwork and with work in place," Boyer says.
In his current role as a brokerage advisor with NAI Burns Scalo in Pittsburgh, Boyer's perspective has shifted from managing complex construction projects to advising individuals and family offices on real estate transactions within their investment portfolios. He brings that forward-looking view to his service as a member of the Cleveland Fed's Pittsburgh Branch board.
Reserve Banks rely heavily on data analysis, essentially looking at what happened in the past to inform actions that need to be taken in the present or planned for in the future. Boyer understands that his outlook helps broaden policymakers' perspectives on how businesses assess economic developments and demographic shifts. He recalls telling a Cleveland Fed staffer, "You all have the luxury of making decisions based on what happened already. If I do that, I'm quickly going to be out of a job."
The need to skillfully navigate the continual changes in commercial real estate has been heightened, according to Boyer, by workplace changes accelerated by the COVID-19 pandemic. Huge advances in virtual meeting technology mean that a smaller percentage of people are working in offices, but spaces for people to gather to work will remain crucial, Boyer says.
"At the end of the day, this isolation is not sustainable. Office is critical," Boyer says, and his work involves "understanding our market to determine what the office of the future looks like and building it today."
A native of Philadelphia, Boyer moved to the Pittsburgh area in 1972, when he was 6, after his father, who worked for US Steel, was transferred as part of a consolidation of the company's engineering departments from across the country. Boyer graduated from Gateway High School in Monroeville, Pennsylvania, in 1984. He studied business at Pennsylvania State University before moving to Los Angeles to work in the entertainment industry, subsequently becoming a stockbroker. It was during this time that the door opened to real estate.
Decades later, applying his broad set of experiences to properly advise his clients on their real estate needs remains the motivating factor for Boyer. "I love real estate," he says. "It's a fascinating business. I love working with people, I love solving problems."