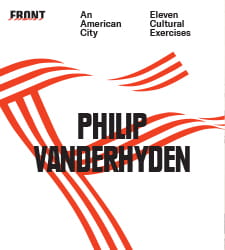 FRONT Triennial Art Exhibition (Cleveland, Oberlin, and Akron, Ohio)
FRONT International: Cleveland Triennial for Contemporary Art is an exhibition consisting of artist commissions, performances, films, and public programs that launched its inaugural edition in July 2018. An American City: Eleven Cultural Exercises, features collaborations with museums, civic institutions, and alternative spaces across Cleveland, Akron, and Oberlin.
Visit the FRONT website for more information.
The Federal Reserve Bank of Cleveland (on the National Register of Historic Places) features an installation by New York-based artist Philip Vanderhyden in the Bank's beautiful main lobby. Visitors to this special exhibit should plan to explore the on-site Learning Center and Money Museum.
Visit Us.
The FRONT exhibit runs July 14 – September 30, 2018. Visit Monday–Thursday.