Building Healthy Communities Conference
Building Healthy Communities Ohio is one of a series of meetings convened around the nation to focus on ways to leverage resources in the public health and community development sectors to create sustainable neighborhoods and healthy environments for, in this instance, all Ohioans. Together, the community development and health sectors—with their discrete strengths and funding opportunities—create a framework to support partnerships and collaborations that can help transform struggling neighborhoods into healthy and safe areas. This Ohio convening featured experts at the regional, state, and federal level and some 160 attendees from across the State exchanging ideas, highlighting collaborative efforts, and exploring new ways to focus on and invest in healthy communities. The benefits of improved health redound to all, too: Better health outcomes lead to economic stability and vibrant, thriving communities.
Related Resources
A nonprofit, independent source for forecasting health trends, analyzing key health issues, and communicating current research to policymakers, state agencies, and other decision-makers.
Helps catalyze and support collaborations across the health and community development sectors, together working to improve low-income communities and the lives of people living in them.
Find information on similar conferences held throughout the country, along with publications highlighting collaborative efforts between the health and community development fields and their impact on health outcomes of low-income individuals.
A report for the Robert Wood Johnson Foundation's Commission to Build a Healthier America that highlights collaborations between community development and public health organizations and describes successful practices and obstacles that prevent collaboration.
Published by Health Resources in Action, this report points to opportunities for investment in healthy communities, along with funding vehicles provided by the federal government for collaboration.
Agenda
Agenda: Building Healthy Communities Conference

8:30 AM - 9:00AM
Registration

9:35 AM - 10:45 AM
Part 1 | SETTING THE STAGE:
WHAT'S THE CONNECTION BETWEEN HEALTH AND COMMUNITY DEVELOPMENT?

We all strive for healthy communities—and residents—but what does this mean specifically for the fields of health and community development? Panelists discuss what's happening at the critical intersection of place and health outcomes.


Welcome:
Paul Kaboth, Vice President and Community Development Officer, Federal Reserve Bank of Cleveland

Panelists:
David Erickson, Director of the Center for Community Development Investments, Federal Reserve Bank of San Francisco
Presentation (124mb)

Doug Jutte, MD, MPH, Executive Director, Build Healthy Places Network
Presentation (124mb)

Mark McDermott, Vice President and Ohio Market Leader, Enterprise Foundation

10:50 AM - 11:30 AM
Part 2 | HOW IT CAN BE DONE: PURPOSE BUILT COMMUNITIES

Purpose Built Communities is a nonprofit dedicated to transforming struggling neighborhoods into vibrant, sustainable communities where everyone has the opportunity to thrive through an approach that melds community development principles with public health practice. Hear and see what that looks like for one community in particular.


Speaker:
Carol Naughton, Senior Vice President, Purpose Built Communities
Presentation (11mb)

11:30 AM — 12:30 PM
Networking Lunch
12:35 PM - 1:50 PM
Part 3 | INNOVATIVE APPROACHES:
THE HEALTH SECTOR BEHIND THE WHEEL

In this panel discussion, experts from across the State of Ohio highlight strategies, initiatives, and programs where collaboration between community and health organizations is geared toward improving community health.


Moderator:
Rob Kahn, MD, Associate Director, Division of General and Community Pediatrics, Cincinnati Children's Hospital
Presentation (11mb)

Panelists:
Martha Halko, Deputy Director, Cuyahoga County Board of Health
Presentation (3mb)

Angela Mingo, Community Relations Director, Nationwide Children's Hospital (Columbus)
Presentation (52mb)

1:55 PM - 3:10 PM
Part 4 | INNOVATIVE FUNDING:
INVESTING IN HEALTHY COMMUNITIES

In this panel, experts highlight innovative investment approaches that address the health of communities at both the individual and neighborhood levels.


Moderator:
Ian Galloway, Senior Research Associate, Federal Reserve Bank of San Francisco
Panelists:
Rick Brush, Founder and CEO, Collective Health
Presentation (8mb)

Maggie Super Church, Consultant, Healthy Neighborhoods Equity Fund
Presentation (6mb)

Michelle Norris, President, National Church Residences Development Corporation, and Senior Vice President, Business Development and Public Policy, National Church Residences
Presentation (20mb)

3:15 PM - 3:30 PM
BREAK
3:30 PM - 4:15 PM
Part 5 | BUILDING CONNECTIONS:
POLICY APPROACHES TO IMPROVING COMMUNITY HEALTH

In this closing panel, experts weigh in on policy approaches to building connections between the health and community development sectors in Ohio.


Moderator:
Amy Rohling McGee, President, Health Policy Institute of Ohio
Panelists:
John Belt, Field Services Section Administrator, Ohio Department of Health
Doug Garver, Executive Director, Ohio Housing Finance Agency
Tracy Plouck, Director, Ohio Department of Mental Health
Highlights
While improving the health of individuals used to be the primary goal of many healthcare initiatives, an increasing number of partnerships now strive to improve outcomes for individuals and the communities they live in — and they're producing results.
Health is about far more than treating illness. And increasingly, the community development and health sectors are working together to promote healthy individuals and healthy communities.
Consider the impact on a child once asthma triggers in the home are identified and addressed. The child misses, on average, 12 fewer days of school per year and reduces his risk of landing in the emergency room because of an asthma attack by almost half, according to a study published in the American Journal of Preventive Medicine. In another study, residents in Charlotte, North Carolina, lost weight through walking when light rail was introduced into their neighborhoods.
"Research and outreach have shown that you typically can't improve outcomes for individuals simply by making sure they are in safe, affordable housing," says Paul Kaboth, vice president and Community Development Officer for the Cleveland Fed. "The community development industry has adopted a more holistic approach to helping underserved populations, including working with the health sector."
For decades, affordable housing has been a primary focus of the community development industry—not surprising, given that the industry was born largely of banks' redlining practices in the 1960s and 1970s. This focus on housing was especially useful in the wake of both Congress's 1977 passage of the Community Reinvestment Act as well as the recent foreclosure crisis. Community development corporations, or CDCs, work with motivated lending institutions to help improve housing options for individuals and families in low- and moderate-income areas. But recently, the focus of the industry has broadened to support the varied needs of individuals and families in low- and moderate-income areas, including workforce development, education, health, and housing.
Building healthy communities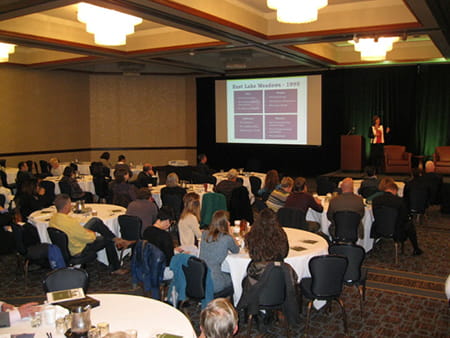 Carol Naughton explains how investments in the East Lake Meadows neighborhood of Atlanta have driven improved health, economic, and social outcomes for residents and the community. East Lake is a national model for successful partnering of health and community development.
To learn more about the intersection of community development and health, the Cleveland Fed hosted "Building Healthy Communities Ohio" this past fall in Columbus. The one-day forum was part of a series of meetings convened around the nation to focus on ways to leverage resources in the public health and community development sectors to help promote healthy environments for all.
"These partnerships are already promoting improved health for both residents and communities," says Lisa Nelson, senior policy analyst in Community Development for the Cleveland Fed. One such partnership between health and community development in Ohio involves Nationwide Children's Hospital (NCH) in Columbus and area nonprofits, neighborhood groups, residents, the City of Columbus, and multiple private entities.
Angela Mingo, director of community relations for NCH, noted that as an anchor institution and one of Columbus's largest employers, the hospital recognizes the value of being engaged with its surrounding neighborhood. Located in an area where more than three-fourths of the residents are in single-parent homes and just 13 percent of adult residents have a bachelor's degree, NCH created a program, "Healthy Neighborhoods, Healthy Families," as a way to strengthen families and neighborhoods. The multi-year initiative has five prongs—education, health and wellness, safety, housing, and workforce development—and is targeted to an area encompassing 31 residential blocks, with a total of 417 homes.
To date, the NCH program has had an impact on more than 100 homes directly, through either renovation or a home repair grant program. These improved homes are then marketed for sale (only three of the improved homes remain on the market as of yearend 2014). Homebuyers include hospital employees, longtime area residents, and others drawn to the neighborhood's proximity to NCH. For example, Mingo cited an example of a single mother whose child receives ongoing treatment at NCH; as a result of the Healthy Neighborhoods, Healthy Families program, she was able to buy an affordable home closer to the hospital and to her place of employment. The result? Mother is now able to walk with her wheelchair-bound child to the hospital for treatments in far less time—and with far less hassle—than it took previously. (See additional ways community development and health are linked—and the research behind each.)
Funding healthy communities
Financing such collaborations is a critical part of the equation. Nationwide Children's Hospital lined up public and private partners to provide both financing and in-kind support. Partners range from the Franklin County Land Bank, the City of Columbus, and United Way of Central Ohio, all of which provided financial support, to Turner Construction, Keller Williams Realty Collaborative, and Wexner Service Corps, which provided volunteers to make home repairs, clean up yards, and landscape renovated properties.
"Some organizations are crafting really innovative ways to fund these projects," says the Cleveland Fed's Mary Helen Petrus, an expert in community development issues. "It's not an easy sell to direct housing funds toward a health initiative, for instance, but if that's what will drive better health outcomes for individuals and neighborhoods, that's what needs to happen."
Funding for these projects is typically sophisticated. Michelle Norris, senior vice president of business development and public policy for National Church Residences, described how her organization—a respected nonprofit that provides affordable housing to the elderly, low-income families, and residents with disabilities—aligns a complex array of financing sources from federal and state grants, loans, and tax-credit programs to develop their properties. "We're using funds from HUD [the Department of Housing and Urban Development], Medicaid, and other sources to make sure appropriate healthcare options are available in the housing we build for seniors," she explained.
Maggie Super Church, a consultant with Healthy Neighborhoods Equity Fund in Massachusetts, described how the fund solicits capital for "catalytic residential, commercial, and mixed-use projects with the potential to strengthen community and environmental health and improve regional equity." Community input is also essential, she asserts, adding that "if the residents aren't supportive of a project, we won't invest in it." Super Church explained how the Fund's impact confers a "triple-bottom-line return" of economic benefits (e.g., lower healthcare costs), environmental benefits (increased transit ridership), and community benefits (e.g., access to jobs and economic mobility). This approach yields compounded benefits that extend well beyond improving the health of individuals, which used to be the sole goal of many healthcare initiatives. With partnerships and combined efforts, families, communities, and investors also benefit.
This chart shows how Massachusetts' Healthy Neighborhoods Equity Fund drives triple-bottom-line returns.
Presentations and videos from the event—including examples of communities where these collaborative efforts are working—are now available.
Interested in learning more about what's happening at the intersection of community development and health? Check out these two sites: Build Healthy Places Network and the San Francisco Federal Reserve's Healthy Communities Initiative.
---
Why is the Fed involved in community development?

Broadly speaking, the Federal Reserve's three primary responsibilities are supervising banks, serving as a bank to the banks, and crafting monetary policy. An additional function that's related to supervision of banks came about as a result of Congress's passage of the Community Reinvestment Act (CRA). In the 1960s and '70s, redlining was a practice some banks engaged in that resulted in residents of poorer communities being excluded from access to credit, including home mortgages and small business loans. With passage of the CRA in 1977, Congress outlawed redlining among banks.

As an overseer of banks, the Fed then created a Community Development function to work with banks, nonprofits, municipal leaders, and elected officials to not only help ensure impartial access to credit for all, but also to promote stable, sustainable communities in our regions.

Each of the 12 Reserve Banks and the Board of Governors has a Community Development group that conducts applied research and outreach to learn more about conditions in low- and moderate-income communities. You can learn more about the Fed's work in community development at www.fedcommunities.org.