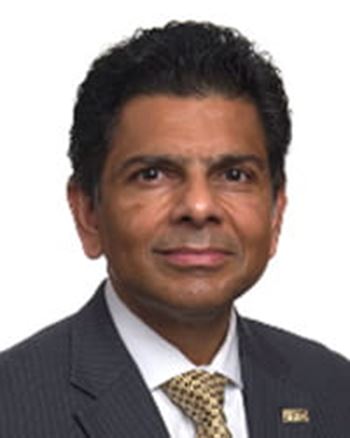 Ashish K. Vaidya
Former President
Northern Kentucky University
Highland Heights, Kentucky
Appointed by the Board of Governors of the Federal Reserve System
Sector Representation: Education
Current term ends December 31, 2023
From his opening letter to current and prospective students on the Northern Kentucky University (NKU) webpage, one immediately gets a sense of Ashish Vaidya's commitment as university president: "Here, it doesn't matter who you are or where you come from," he writes. "Here, what matters most is what you can and want to do—and your willingness to work hard to bring it all to life. We work tirelessly to equip our students with the confidence, education, and knowledge that will empower them to leave their mark on their communities and their professions."
More than mere words, it's truly what Vaidya believes. He is a proponent of higher education as the path to economic and social mobility. Especially, he says, through public higher education, like at the state university that he leads, because of its "access mission" to provide all students with an affordable opportunity to pursue a degree.
Always an academic
Vaidya has spent his 30-plus-year career at state colleges and universities as a faculty member teaching economics and, later, when he moved to "the dark side," he teases, as an administrator. He started within the California State system at two separate campuses, California State University Los Angeles and then California State University Channel Islands. From there he made the move to Minnesota as provost and then interim president at St. Cloud State University. In 2018, he was named president of NKU in Highland Heights, Kentucky, about seven miles southeast of Cincinnati.
There are over 400 institutions that are part of the American Association of State Colleges & Universities (AASCU) across the country, he explains, serving 3.5 million students, most of them first-generation and low-income students and people of color.
He's biased, he admits, but he believes the state colleges and universities "are the ones making the true difference in advancing our economic and social prospects. We call ourselves, 'stewards of place.' We have a mission to make sure we are aligned with the needs of the region."
That mission has been a consistent part of his journey, whether in southern California, central Minnesota or, now, northern Kentucky.
"I'm passionate about this aspect," says Vaidya. "In fact, it's become even more urgent now as we emerge from the pandemic. People and communities of color in the United States are more adversely affected by the pandemic than others. Equity gaps are going to be further exacerbated, we're not anywhere close to closing them, and those gaps are only going to continue to widen unless we continue to focus on them."
Perhaps because normal operations were turned upside down during the pandemic—students had to vacate university housing; all classes went virtual; university activities and sporting events, including commencement, were cancelled; and special health counseling and resources were assembled—he realizes that dealing swiftly with an unplanned crisis and helping students and faculty navigate through this tough time shows the true strength of an organization. He is pleased with how his staff came together to accomplish so much. It made him realize that his current position is exactly where he is supposed to be at this time.
"It's a matter of fit, among the individual and the institution and the region," he says. "This region has embraced NKU and considers it a critical asset in this region's economic and social ecosystem. I've been told time and again that the airport, St. Elizabeth Health Care, and NKU are the drivers of this region's current and future success."
Speaking of regional responsibility
Another regional responsibility that he's recently added is his role as director on the board of the Federal Reserve Bank of Cleveland's Cincinnati Branch. He was appointed in 2021 to a three-year term, but his relationship with the Federal Reserve actually started years ago in California.
Vaidya was launching a new bachelor's degree in economics at Cal State Channel Islands and wanted to make a big splash. He decided to invite Janet Yellen, who at that time had just been named president of the San Francisco Fed, to join the ceremony as guest speaker.
"I didn't know her at all," admits Vaidya. "Of course, I knew of her and admired her work and knew that she has a lot of interest in economic education. What's the harm in asking?"
He sent her an email inviting her to join the kick-off festivities and received what he calls "a very gracious" message back. Although her schedule wouldn't allow her to attend, she introduced him to Robert Parry, the San Francisco Fed president who preceded her and had retired after 18 years of service.
Sharing and learning
He and Parry have been friends ever since. In fact, it was Parry who suggested Vaidya consider a director position with the San Francisco Fed's Los Angeles Branch and fostered the connection. Things were moving along for his appointment until he got the position at St. Cloud State and moved out of the area. Years later when he met Cleveland Fed President Loretta J. Mester as she toured the NKU campus during an outreach visit to the area, she invited him to consider one day becoming part of the branch board. He received a formal invitation to serve as a director from the branch senior regional officer about a year later.
"This was definitely a prestigious opportunity, and I feel fortunate about that," he says with a smile. "I'm excited about the work that the Cleveland Fed is doing around economic inclusion. We all have a role to play to lift communities, especially those that have been historically disadvantaged."
Although he joined the board during the pandemic and has yet to attend an in-person meeting, he's already impressed with the diverse group and is learning new things from different perspectives. "It's not just an opportunity for me to share what's happening within the higher education sector or this region or the Commonwealth of Kentucky, but it's also my learning about the different elements that we have on the board," Vaidya says.
He gives kudos to Cleveland Fed leadership for assembling a diverse board. Members come from different industries and backgrounds and represent various geographic areas. "I think that adds to the richness of the conversation," he says.
Fast Facts
Sandwich chef
Although he credits his wife Nita, a sociologist, as the chef in the family, he enjoys spending time in the kitchen, too. "I like to tell people that I make the world's best sandwiches," he says. "My signature sandwich is the tuna melt. I think most of my family would agree with this. They actually look forward to my sandwiches."
His "mishmashed" turkey sandwiches, which include Indian spices, also get rave reviews.
Tennis, anyone?
Ashish Vaidya is thrilled to be in Kentucky, a more temperate climate than central Minnesota, where he previously worked, so he can get outside and onto the tennis courts.
"I'm a bigger fan than I am player," he says. "I've always enjoyed tennis, and I have fun on the courts."
As a young boy, he enjoyed watching tennis legends such as Björn Borg and Jimmy Connors. He has been to the US Open Tennis Championship a couple of times, the French Open once, and the Championships, Wimbledon once. Now that he resides in northern Kentucky, he can also watch the Western & Southern Open in person. The tournament takes place annually in Mason, Ohio, a suburb of Cincinnati: "The first year I was here, I was so delighted to go see some tennis."
The Force was with him
Vaidya holds bachelor's and master's degrees from St. Xavier's College in Mumbai, India, and came to the United States to pursue a doctorate. He applied to various universities and had several choices but decided on the University of California, Davis, where he earned another master's degree and a doctoral degree, both in economics.
California was a natural choice, he says, because his sister and her young family were already there. His first trip there was as a young teenage tourist. It was 1977, he recalls, and the first time he met his brother-in-law. After a 20-plus hour flight, he landed at the San Francisco airport and was introduced to his sister's husband, and then the three of them went directly to the movie theater. He thought it a bit odd at the time. The movie? The original Star Wars.
"It was a big deal," he says. "And, of course, I've been a big fan ever since."