At a time of heightened interest in inflation among people, businesses, and communities, the Center for Inflation Research is committed to providing timely answers to timely questions.
The goal of the Center has always been to improve the understanding of policymakers, researchers, and the public about inflation and the factors that influence its behavior. Achieving that goal is especially important in times like these. Bookmark this page or subscribe to be alerted each time we publish these regular Q&As
Have another question relating to inflation today? Ask it..
Last updated September 6, 2022
Why is what people expect inflation to do so important?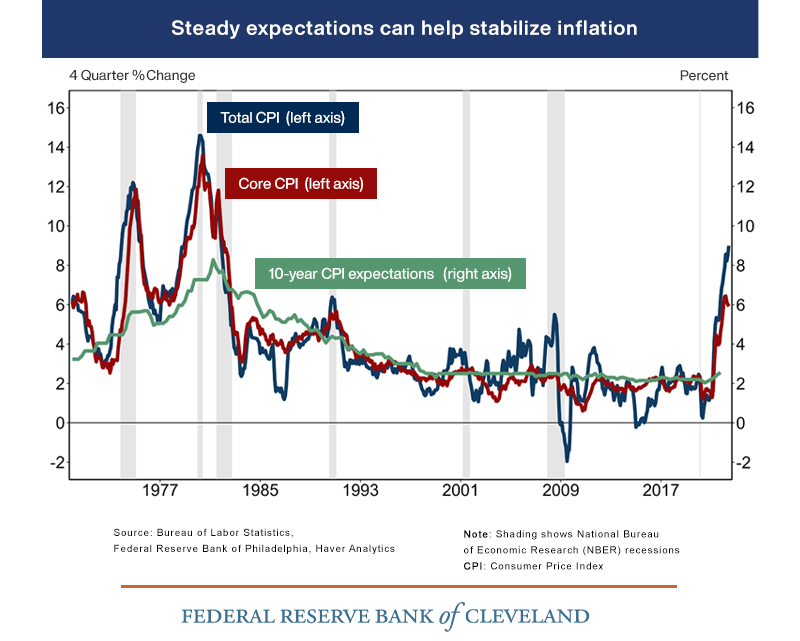 Following generally stable behavior from the early 1990s through 2020, US inflation has shown a steady and dramatic increase since the spring of 2021. The surge in inflation has generated the highest readings in more than 40 years, with policymakers focused on lowering inflation to meet the Federal Reserve's 2 percent long-run inflation goal. To inform their decisions and actions, policymakers have been carefully monitoring the movements in a host of indicators, including long-run inflation expectations—expectations by consumers, businesses, and financial market participants of what inflation will be that extend beyond the next year or two. A particular concern is that the current high-inflation environment will cause these expectations to increase; were that increase to happen, it would require monetary policymakers to act more forcefully, taking actions such as raising interest rates by more and over a longer period to return inflation to the target goal.
Long-run inflation expectations are important because they can act as a guiding force on inflation itself. Decisions made by consumers and firms depend not only on past and current events but also on what is expected to happen in the future. Expected inflation over the long run can affect wage demands and offers and therefore firms' price-setting behavior. Consequently, there is a "self-fulfilling" element associated with expected inflation and its influence on current inflation: If workers and firms increase their long-run inflation expectations and act on these beliefs, then inflation will rise. The opposite holds true when long-run inflation expectations decline.
Long-run inflation expectations also act like a valve that can enhance or reduce the influence of certain events, such as changes in the prices of food and energy, on the future course of inflation. For example, if food and energy prices rise in an environment in which long-run inflation expectations are moving up, then workers and firms are more likely to respond to these developments and take actions to cause these price increases to spread, or "pass through," to other prices in the economy. This type of reaction by workers and firms can perpetuate the impact of food and energy price increases on inflation. On the other hand, if food and energy prices rise in an environment in which long-run inflation expectations are steady, or "well anchored," then workers and firms are less likely to respond to these developments, a situation which would limit the spread to other prices in the economy.
To gain a better understanding of the importance of inflation expectations in the inflation process, we can look at the three series plotted in the chart: headline (or total) CPI (Consumer Price Index) inflation, core CPI inflation (which excludes food and energy prices), and long-run (10-year) CPI inflation expectations. There is a marked change in the behavior of the long-run inflation expectations series in the early 1990s. Inflation expectations initially rise and then decline during the earlier period, whereas they remain very steady during the later period. The rise in expected inflation takes place during the high-inflation decade of the 1970s, while the decline starting in the early 1980s included the time when the FOMC headed by former Fed Chair Paul Volcker took dramatic steps to rein in runaway inflation.
The behavior of headline and core inflation and their relationship differed during the 1970s and the 1990s. Headline and core inflation showed considerable variability during the earlier period, with their large swings tending to move in parallel with the rise and decline in inflation expectations. During the later period, however, headline and core inflation moved in a much narrower range around a very stable level of inflation expectations. The impact of food and energy prices on inflation also changed across the two time periods. There are episodes during the 1970s punctuated by dramatic increases in food and energy prices; you can see this in how headline (total) inflation initially rises above core inflation (which excludes food and energy prices), with the gap subsequently closing because core inflation moves up to the levels of headline inflation. This evidence of core inflation's tracking headline inflation indicates a high degree of pass-through of the rise in food and energy prices to other prices in the economy. However, a different picture emerges during the 1990s. When food and energy prices caused headline inflation to deviate from core inflation, the gap largely closed because headline inflation moved back toward core inflation, and that indicates a low degree of pass-through.
So what does this all mean for today's environment? These connections in the past between the movement of inflation expectations and the rise and fall of headline and core inflation are the reason for the increased attention on inflation expectations today. The pandemic has generated a surge in both headline and core inflation. If long-run inflation expectations remain stable, this may help bring inflation back toward policymakers' targeted 2 percent inflation goal. If long-run inflation expectations move toward current inflation rates, then this goal may be more difficult to achieve.
The views expressed herein are those of the authors and are based on information available at the time of the last update and do not necessarily reflect the views of the Federal Reserve Bank of Cleveland or the Federal Reserve System.
About the Researchers
Edward S. Knotek II
Senior Vice President and Director of Research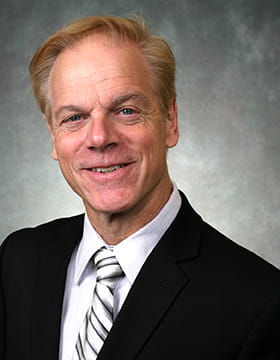 Robert W. Rich
Senior Economic and Policy Advisor

Center updates, direct to your inbox
Register to receive the Center for Inflation Research newsletter and other notifications by email. (Rest assured, we won't share your information, and you can unsubscribe at any time.)