Supervision and Regulation
How does the regulation and supervision process work?
When Congress passes a law that impacts the financial industry, the Federal Reserve—sometimes in cooperation with other federal agencies—often drafts regulations that determine how the law will be implemented.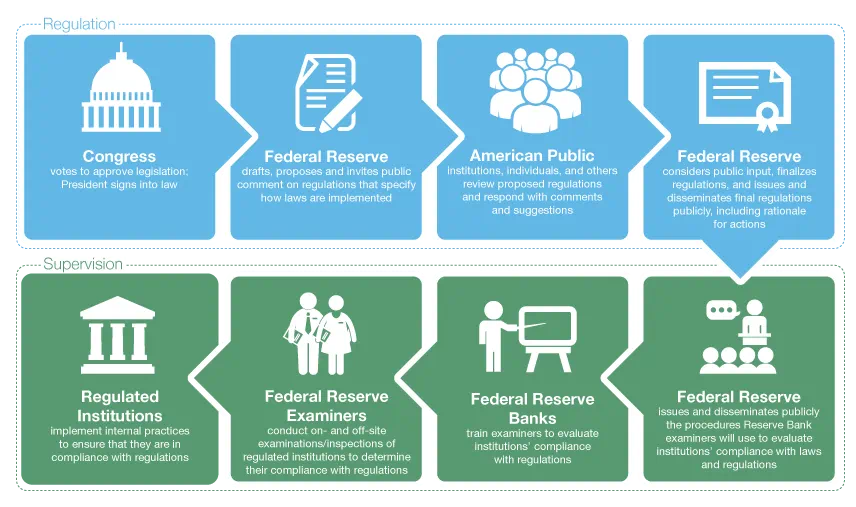 What happens when the Cleveland Fed finds something concerning with the financial performance of an institution?
Sometimes a "memorandum of understanding" is issued. This is an informal but severe action for which the member bank's board of directors agrees to address the deficiencies identified by making the specific changes outlined in the memorandum as soon as possible. The Board of Governors can also administer formal actions, including cease-and-desist orders and civil monetary penalties.
Can a financial institution appeal a supervisory determination?
Financial institutions may contact the Ombuds regarding the appeals process for material supervisory determinations.
On April 1, 2020, the Federal Reserve Board updated its policy statement governing the internal appeals process for material supervisory determinations and revised the Board's Ombuds policy. This guidance applies to institutions, including those with $10 billion or less in total consolidated assets, that receive a material supervisory determination by the Federal Reserve.
Learn more about this process and how to appeal a material supervisory determination of your financial institution in SR 20-28 / CA 20-14 Supervision and Regulation Letters.
Resources

Supervision, Credit Risk, and Statistics
Cleveland Fed employees in Supervision, Credit Risk, and Statistics (SCS) assist the Bank in promoting the safety and soundness of financial institutions in our region, regulating the nation's banking and financial structure, and enforcing laws and regulations.
Supervision and Regulation
As part of the nation's central bank, the Cleveland Fed supervises and regulates financial institutions in the Cleveland Fed's region. Our employees in Supervision and Regulation promote a safe and sound banking system, foster financial market stability, and support compliance with laws and regulations, including those relating to consumer protection.
Credit Risk
Credit Risk employees provide liquidity to the banking system, work to avoid losses that undermine the integrity of payment systems or the credibility of the Federal Reserve System, and facilitate the implementation of monetary policy.
Statistics and Analysis
Teams in Statistics and Analysis support monetary policymaking, supervision and regulation, and fiscal agency responsibilities through collecting, analyzing, and ensuring the quality of financial and banking structure information.